Gam Ki Shayari – Gham Shayari in Hindi. Gham Shayari, Gham Ki Shayari, Gham Bhari Hindi Shayari, New Gham Bhari Shayari, Best Gham Bhari Shayari.
Maslhat Ke Dhaagon Ne Honthh See Diye Mere,
Varna Apne Tootne Ka Kis Ko Gham Nahi Hota.
मस्लहत के धागों ने होंठ सी दिए मेरे,
वर्ना अपने टूटने का किस को ग़म नहीं होता।
Patthar Ke Jigar Walo Gham Mein Wo Ravani Hai,
Khud Raah Bana Lega Behta Hua Paani Hai.
पत्थर के जिगर वालो ग़म में वो रवानी है,
खुद राह बना लेगा बहता हुआ पानी है।
---
Love Wali Shayari
Love Wali Shayari – In the language of the heart, our shayari perfectly expresses the essence of real love. You can download high-resolution pictures that go with our shayari.
Wajah Nafraton Ki Talaashi Jaati Hai,
Mohabbat Toh Bin Wajah Hi Ho Jaati Hai.
वजह नफरतों की तलाशी जाती है,
मोहब्बत तो बिन वजह ही हो जाती है।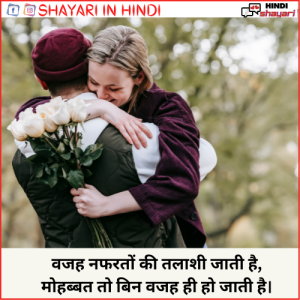 Chahat Hui Kisi Se Toh Fir Be-Inteha Hui,
Chaha Toh Chahaton Ki Hadd Se Gujar Gaye,
HumNe Khuda Se Kuchh Bhi Na Manga Magar Usey,
Manga Toh Siskiyon Ki Bhi Hadd Se Gujar Gaye.
चाहत हुई किसी से तो फिर बेइन्तेहाँ हुई,
चाहा तो चाहतों की हद से गुजर गए,
हमने खुदा से कुछ भी न माँगा मगर उसे,
माँगा तो सिसकियों की भी हद से गुजर गये।
---
Facebook Status For Boys
Facebook Status For Boys – we'll offer our favourite selection of Hindi friendship shayari on this site today, and you can copy or save them with ease.
Aadatein Alag Hain Meri Duniya Walo Se,
Dost Kam Rakhta Hoon Par LaJawab Rakhta Hoon.
आदतें अलग हैं मेरी दुनिया वालों से,
दोस्त कम रखता हूँ पर लाजवाब रखता हूँ।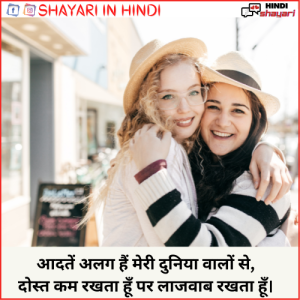 Sachche Dost Kabhi Girne Nahi Dete,
Na Kisi Ki Najron Se Na Kisi Ke Kadmon Mein.
सच्चे दोस्त हमें कभी गिरने नहीं देते,
न किसी कि नजरों मे न किसी के कदमों में।