Good Night Jaan – Those who enjoy sending good night SMS messages to their pals will undoubtedly find the best good night shayari in hindi to be of great assistance.
Milne Aayenge Hum Aapse Khwaabon Mein,
Ye Jara Roshni Ke Diye Bujha Dijiye,
Ab Nahi Hota Intezar Aapse Mulakat Ka,
Jara Apni Aankhon Ke Parde Gira Dijiye.
Good Night.
मिलने आयेंगे हम आपसे ख्वाबों में,
ये जरा रौशनी के दिये बुझा दीजिए,
अब नहीं होता इंतज़ार आपसे मुलाकात का,
जरा अपनी आँखों के परदे गिरा दीजिए।
शुभरात्रि।
Is Kadar Hum Aapki Mohabbat Mein Kho Gaye,
Ek Najar Dekha Aur Bas Aapke Hi Ho Gaye,
Aankh Khuli To Pata Chala Dekha Ek Sapna Tha,
Aankh Band Ki Aur Usi Sapne Mein Kho Gaye.
Good Night.
इस कदर हम आपकी मोहब्बत में खो गए,
एक नजर देखा और बस आपके ही हो गए,
आँख खुली तो पता चला देखा एक सपना था,
आँख बंद की और उसी सपने में खो गए।
शुभरात्रि।
---
Cute Girls Profile Pic
Cute Girls Profile Pic – Several attitude shayari for females, girl status in hindi, and attitude shayari have been written here.
Roz ek taaja sher kaha tak likhu tere liye,
Tujhme to roz hi ek nayi baat hua karti hai.
रोज इक ताज़ा शेर कहाँ तक लिखूं तेरे लिए,
तुझमें तो रोज ही एक नई बात हुआ करती है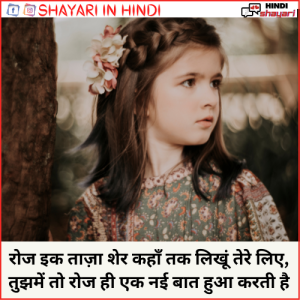 Hosh-ae-hawas pe kabu to kar liya maine,
Unhe dekh ke fir hosh kho gaye to kya hoga.
होश–ए–हवास पे काबू तो कर लिया मैंने,
उन्हें देख के फिर होश खो गए तो क्या होगा।
---
Sad Whatsapp About
Sad Whatsapp About – These Heart Touching Two Line Shayari ( ) express numerous feelings in the heart in a limited number of syllables.
Duniya Fareb Karke HunarMand Ho Gayi,
Hum Aitbaar Karke Gunaahgar Ho Gaye.
दुनिया फ़रेब करके हुनरमंद हो गई,
हम ऐतबार करके गुनाहगार हो गए।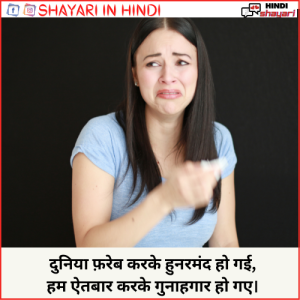 Agar Bikne Pe Aa Jao Toh Ghat Jate Hain Daam Aksar,
Na Bikne Ka Iraada Ho Toh Keemat Aur Barhti Hai.
अगर बिकने पे आ जाओ तो घट जाते हैं दाम अक्सर,
न बिकने का इरादा हो तो क़ीमत और बढ़ती है।