2 Line Dard Shayari – The most recent collection of Dard Shayari in Hindi with English typeface is presented below. In this article, we have posted more than 100 pieces of emotional poetry.
Kitna Lutf Le Rahein Hain Log Mere Dard-o-Gham Ka,
Ai Ishq Dekh Tu Ne To Mera Tamaasha Hi Bana Diya.
कितना लुत्फ ले रहे हैं लोग मेरे दर्द-ओ-ग़म का,
ऐ इश्क़ देख तूने तो मेरा तमाशा ही बना दिया।
Mere Dard Ka Jara Sa Hissa Lekar To Dekho,
Sadiyon Tak Yaad Karte Rahoge Tum Bhi.
मेरे दर्द का जरा सा हिस्सा लेकर तो देखो,
सदियों तक याद करते रहोगे तुम भी।
---
Love Quotes For Him In Hindi
Love Quotes For Him In Hindi – You can read the largest collection of two-line short shayaris with deep significance here.
Main Ek Shaam Jo Roshan Deeya Uthha Laya,
Tamaam Shahar Kahin Se Hawa Uthha Laya.
मैं एक शाम जो रोशन दीया उठा लाया,
तमाम शहर कहीं से हवा उठा लाया।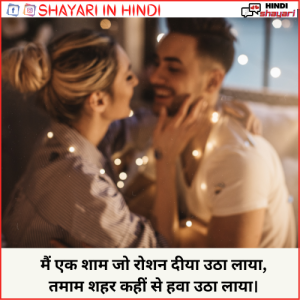 Najron Mein Doston Ki Jo Itna Kharab Hai,
Uska Qasoor Ye Hai Ki Wo Kaamyab Hai.
नजरों में दोस्तों की जो इतना खराब है,
उसका कसूर ये है कि वो कामयाब है।
---
Whatsapp Dp Motivational
Whatsapp Dp Motivational – Hello, guys I've got the most recent collection of Hindi Shayari for motivation. I hope you enjoy this Motivational Shayari post.
Thak kar na baith
ae manzil ke musafir
Manzil bhi milegi aur
milne ka maza bhi aaega
थक कर ना बैठ 
ऐ-मंज़िल के मुसाफिर,
मंज़िल भी मिलेगी और 
मिलने का मज़ा भी आएगा।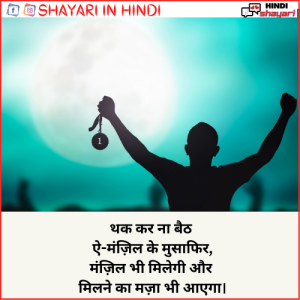 Heere ki kabiliyat rkhte ho
To andhere me chamka karo.
Roshni me to kanch bhi chmka karte h
हीरे की काबिलियत रखते हो ,
तो अँधेरे में चमका करो।
रौशनी में तो कांच भी
चमका करते है।