Mohabbat Bhari Shayari – Hindi Mohabbat Shayari We are distributing the most recent selection of Mohabbat ki Shayari with Images.
Teri mohabbat me ek ajab
sa nasha hai tabhi ro sari
duniya tumpe fida hai..
तेरी मोहब्बत में एक अजब सा नशा है,
तभी तो सारी दुनिया तुमपे फ़िदा है.
Teri smile ka bhi kya kehna
meri jaan teri smile dekh kar
apni jaan tak luta dun tumpe.
तेरी स्माइल का भी क्या कहना मेरी
जान,तेरी स्माइल देख कर अपनी
जान तक लुटा दूँ तुमपे।
---
Romantic Lines In Hindi
Romantic Lines In Hindi – Indian poem Mohabbat Shayari The most recent collection of Mohabbat ki Shayari and images is shared here.
ki andheron se pyar nahi use
roshani ka wo mohtaaj hai aur
jhuk jata hai wo aksar kyuki
use rishton se bada pyar hai.
की अंधेरों से प्यार नहीं उसे रोशनी
का वो मोहताज़ है और झुक जाता है
वो अक्सर क्युकी उसे रिश्तों से बड़ा
प्यार है।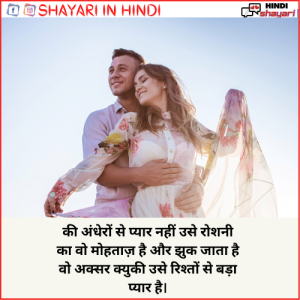 bas yahi chahat hai ankh khule
to tera sath ho aur ankh band
ho to tera khawab ho.
बस यही चाहत है आंख खुले तो
तेरा साथ हो और आंख बंद हो तो
तेरा ख्वाब हो।
---
New Shayari 2023
New Shayari 2023 – Hindi poetry by Mohabbat Shayari … Mohabbat bhari shayari, we are giving the most recent collection of them.
bahut khub surat ha ankhe tumhari
inhe bana do kismat humari humein
nahi chahaiye jamane ki khushiyan
agar mil ajye mohabbat tumhari.
बहुत खूब सूरत है आखै तुम्हारी इन्हें बना दो
किस्मत हमारी हमें नहीं चाहिये ज़माने की
खुशियाँ अगर मिल जाये मोहब्बत तुम्हारी.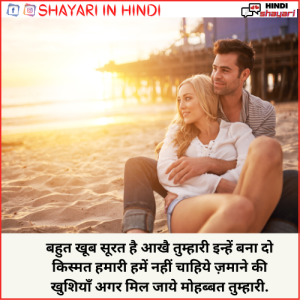 Suno naa abhi sirf bahut sara
pyar kar lo, ignore to shadi ke
bad bhi kar sakte hain.
सुनो ना अभी सिर्फ बहुत सारा प्यार
कर लो इग्नोर तो शादी के बाद भी
कर सकते हैं।