Best Friend Shayri – Hindi friendship shayari are a wonderful technique to convey your sentiments for your closest friend.
Door Ho Jaayein Toh Jara Intezaar Kar Lena,
Apne Dil Mein Itna Toh Aitbaar Kar Lena,
Laut Ke Aayenge Hum Agar Kahin Chale Bhi Gaye,
Aap Bas Humse Dosti Barakaraar Kar Lena.
दूर हो जाएँ तो जरा इंतज़ार कर लेना,
अपने दिल में इतना तो ऐतबार कर लेना,
लौट के आयेंगे हम अगर कहीं चले भी गए,
आप बस हमसे दोस्ती बरकरार कर लेना।
Tu Kitni Bhi KhoobSurat Kyun Na Ho Ai Zindagi,
KhushMijaaz Dosto Ke Bagair Tu Achhi Nahi Lagti.
तू कितनी भी खूबसूरत क्यूँ न हो ऐ ज़िंदगी,
खुशमिजाज़ दोस्तों के वगैर तू अच्छी नहीं लगती।
---
Dhokha Image
Dhokha Image – Hello, guys I'm here with the most recent Dhoka Shayari collection. I hope you enjoy this post about Dhoka Shayari in Hindi.
Har bhool teri maaf ki
Har khata ko teri bhula diya
Gm ye h ki mere pyar ka
Tune bewafa banke sila diya
हर भूल तेरी माफ़ की ,
हर खता को तेरी भुला दिया।
गम ये है कि मेरे प्यार का ,
तूने बेवफा बनके सिला दिया।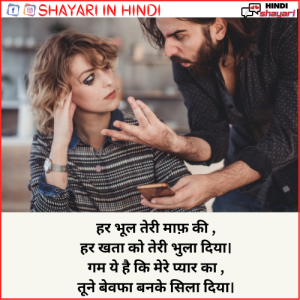 Shayad dene ke liye
Kuch nahi tha unke paas
To dhokha hi de diya
शायद देने के लिए
कुछ नहीं था उनके पास
तो धोखा ही दे दिया।
---
Funny Love Shayari In Hindi
Funny Love Shayari In Hindi – Hello friends! In today's article, we've gathered the funniest Hindi love shayari for you guys.
Tera Pyar Paane Ke Liye
Maine Kitna Intezar Kiya,
Aur Uss Intezar Mein Na Jaane
Kitno Se Pyar Kiya.
तेरा प्यार पाने के लिए
मैंने कितना इंतज़ार किया,
और उस इंतज़ार में न जाने
कितनों से प्यार किया।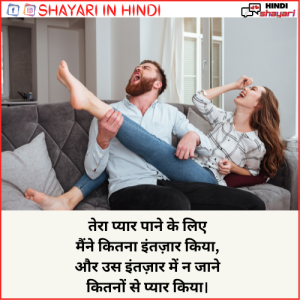 Jise Koyal Samjha Wo Kauwa Nikla,
Dosti Ke Naam Par Hauwa Nikla,
Jo Rokte The Humein Sharab Peene Se,
Aaj Unhein Ki Jeb Mein Pauwa Nikla.
जिसे कोयल समझा वो कौवा निकला,
दोस्ती के नाम पर हौवा निकला,
जो रोकते थे हमें शराब पीने से,
आज उन्हीं की जेब में पौवा निकला।