Dosti Shayari – This is a well picked selection of Hindi Dosti shayari. On this website, you may download HD versions of every Dosti shayari.
Tu Kitni Bhi KhoobSurat Kyun Na Ho Ai Zindagi,
KhushMijaaz Dosto Ke Bagair Tu Achhi Nahi Lagti.
तू कितनी भी खूबसूरत क्यूँ न हो ऐ ज़िंदगी,
खुशमिजाज़ दोस्तों के वगैर तू अच्छी नहीं लगती।
Dosti Mein Dost, Dost Ka Khuda Hota Hai,
Mahsoos Tab Hota Hai Jab Wo Juda Hota Hai.
दोस्ती में दोस्त, दोस्त का ख़ुदा होता है,
महसूस तब होता है जब वो जुदा होता है।
---
Attitude Lyrics In Hindi
Attitude Lyrics In Hindi –  Read our most recent selection of Hindi attitude Shayari, status updates, and SMS here.
Humein Shayar Samajh Ke Yoon Najar Andaz Mat Kariye,
Najar Hum Fer Le To Husn Ka Baazar Gir Jayega.
हमें शायर समझ के यूँ नजर अंदाज मत करिये,
नजर हम फेर ले तो हुस्न का बाजार गिर जायेगा।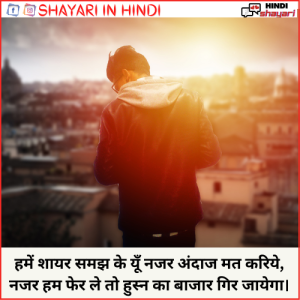 Humari Haisiyat Ka Andaza Tum Ye Jaan Ke Laga Lo,
Hum Kabhi Unke Nahi Hote Jo Har Kisi Ke Ho Gaye.
हमारी हैसियत का अंदाज़ा तुम ये जान के लगा लो,
हम कभी उनके नहीं होते जो हर किसी के हो गए।
---
Hard Shayari
Hard Shayari – You would like reading the heartfelt Hindi Shayari found here. For the benefit of shayari fans, we have provided every Shero Shayari in both Hindi and English script.
Dil Ki Dahleej Par Yaadon Ke Deeye Rakhe Hain,
Aaj Tak Hum Ne Yeh Darwaaje Khule Rakhe Hain,
दिल की दहलीज पर यादों के दिए रखें हैं,
आज तक हम ने ये दरवाजे खुले रखे हैं।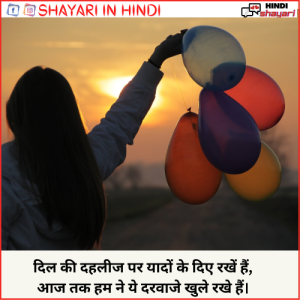 Iss Kahani Ke Woh Kirdar Kahan Se Laaun,
Wohi Dariya Hai Wohi Kachche Ghade Rakhe Hain,
इस कहानी के वो किरदार कहाँ से लाऊं,
वो ही दरिया है वो ही कच्चे घड़े रखे हैं।