Family Sad Shayari – Family Shayari in Hindi is available for aapke family le kiye. Sathi hi me kuch parivar shayari of the highest calibre is available right now.
Yu hi na apne mijaj ko chidchida kijiye,
Koi baat chhoti kare to dil bada kijiye.
यूं ही ना अपने मिजाज को चिडचिडा कीजिये, 
कोई बात छोटी करें तो दिल बड़ा कीजिये
Bahan-bhai pita-mata farishte hai khuda ke sahib,
Badhke insa jaha me koi daulat nahi hoti.
बहन–भाई पिता–माता फरिश्ते है खुदा के साहब,
बढ़के इनसे जहाँ में कोई दौलत नहीं होती।
---
Zindagi Ki Shayari
Zindagi Ki Shayari – Downloadable HD shayari images for Zindagi Shayari in Hindi and Urdu. With the help of these touching shayari on Zindagi, embrace the beauty of life.
Har khwab aur har khwahish
puri ni hoti har kisi ki zindagi
me aap zaruri nahi hote.
हर ख्वाब और हर ख्वाहिशें पूरी
नहीं होती, हर किसी के ज़िंदगी
में आप जरुरी नहीं होते.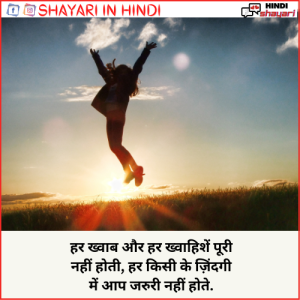 ham sab ki jindagi ka bus ek
hi fasana hai mitti se Bane
ha aur mitti me hi mil jana h.
हम सबकी ज़िंदगी का बस एक ही
फसाना है,मिट्टी से बने है और मिट्टी
में ही मिल जाना है.
---
Sad Good Night Quotes
Sad Good Night Quotes – People who enjoy sending good night SMS messages to their pals will undoubtedly find the best good night shayari in hindi to be of great assistance.
Jeene ka jaha irada hoga,
Waha zindgi se km mila bhi zyada hoga
जीने का जहा इरादा होगा ,
वहा ज़िंदगी से कम मिला भी ज़्यादा होगा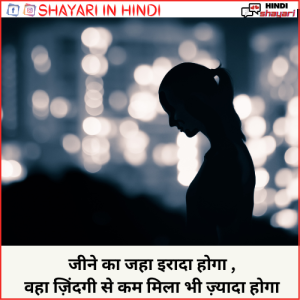 Jo mukam ko tarste h,
Wo mehnt pe kaha marte h
जो मुकाम को तरसते है ,
वो मेहनत पे कहा मरते है