Friendship In Hindi – Hello, guys I'm here with the most recent collection of Hindi Dosti Shayari. I sincerely hope you enjoy Dosti Shayari's post.
do oongli jodne se dosti ho jati h
yahi to dosti ki khoobsurati khlati h
दो ऊँगली जोड़ने से दोस्ती हो जाती है ,
यही तो दोस्ती की ख़ूबसूरती कहलाती है।
pyar me bhale hi junoon h
lekin dosti me sukoon h
प्यार में भले ही जूनून है ,
मगर दोस्ती में सुकून है।
---
Nature Shayari In Hindi
Nature Shayari In Hindi – These Nature Shayari pictures can be used as WhatsApp status updates and Instagram postings. Now go read, and have fun.
Aaj uski masumiyat ke kayal ho gaye,
Sirf uski ek nazar se hi ghayal ho gaye.
आज उसकी मासूमियत के कायल हो गए,
सिर्फ उसकी एक नजर से ही घायल हो गए।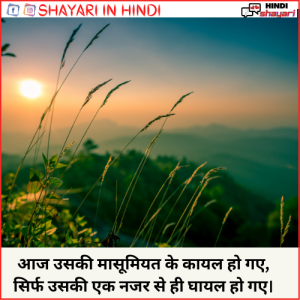 Kitni masumiyat hai unke chehre par,
Samne se zyada unhe chhupkar dekhna accha lgta hai.
कितनी मासूमियत है उनके चेहरे पर,
सामने से ज्यादा उन्हें छुपकर देखना अच्छा लगता है।
---
Lines For Best Friend In Hindi
Lines For Best Friend In Hindi – Itni Pyari Dosti Ittefaaq Nahi Hoti, Milna Humari Takdeer Mein Tha Varna, Phoolo Ki Khushboo Hamesha Paas Nahi Hoti.
Dosti Kis Se Na Thi Kis Se Mujhe Pyar Na Tha,
Jab Bure Waqt Pe Dekha To Koi Yaar Na Tha.
दोस्ती किससे न थी किससे मुझे प्यार न था,
जब बुरे वक़्त पे देखा तो कोई यार न था।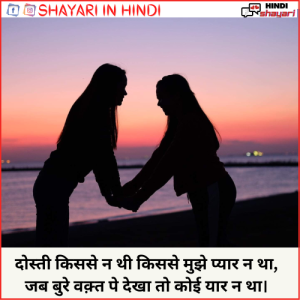 Toofano Ki Dushmani Se Na Bachte To Khair Thi,
Saahil Se Doston Ke Bharam Ne Dubo Diya.
तूफानों ​की दुश्मनी से न बचते तो खैर थी​,
​साहिल से दोस्तों के भरम ने डुबो दिया​।