Good Night Shayri – Send your loved ones a nice goodnight greeting before they drift off into a land of pleasant dreams.
Raat Ho Gayi Kafi Thandi Hawa Chal Rahi Hai,
Yaad Mein Aapki Kisi Ki Muskan Khil Rahi Hai,
Unke Sapno Ki Duniya Mein Aap Kho Jaao,
Aankh Karo Band Aur Aaram Se So Jaao.
रात हो गई काफी ठंडी हवा चल रही है,
याद में आपकी किसी की मुस्कान खिल रही है,
उनके सपनों की दुनिया में आप खो जाओ,
आँखें करो बंद और आराम से सो जाओ।
Raat Ko Mera Naam Le Ke Soya Karo,
Khidki Ko Thoda Kholkar Ke Soya Karo,
Hum Aayege Tumhare Sapno Mein,
Isliye Thodi Jagah Chod Ke Soya Karo.
रात को मेरा नाम ले के सोया करो,
खिड़की को थोड़ा खोलकर के सोया करो,
हम आएंगे तुम्हारे सपनों में,
इसलिए थोड़ी जगह छोड़ के सोया करो।
---
Akelapan Quotes
Akelapan Quotes – Hey everyone. Welcome to our single Hindi Shayari article. You may use the Feeling Alone Sad Status we've provided in this post on Facebook, Whatsapp, and Instagram.
Apni Tanhaayi Se Tang Aa Kar,
Bahut Se Aaine Khareed Laya Hoon.
अपनी तन्हाई से तंग आ कर,
बहुत से आईने खरीद लाया हूँ।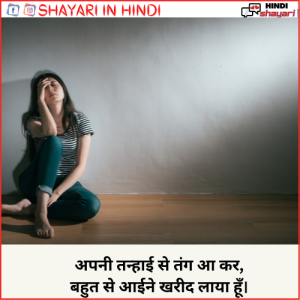 Jaagne Ka Azaab Seh-Seh Kar,
Apne Andar Hi So Gaya Hoon Main.
जागने का अज़ाब सह-सह कर,
अपने अंदर ही सो गया हूँ मैं।
---
Aankhein
Aankhein – Greatest Hindi Shayari about Girlfriend's Gorgeous Eyes, Hindi translations of Urdu Shayaris, Nigah Shayari, Najar Shayari, and Words on Eyes
Log Nazron Ko Bhi Parh Lete Hain,
Apni Aankhon Ko Jhukaye Rakhna.
लोग नज़रों को भी पढ़ लेते हैं,
अपनी आँखों को झुकाए रखना।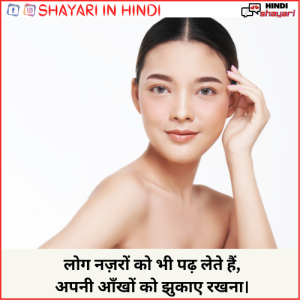 Reh Gaye Lakhon Kaleja Thaam Kar,
Aankh Jis Janib Tumhari Uth Gayi.
रह गये लाखों कलेजा थामकर,
आँख जिस जानिब तुम्हारी उठ गई।