Life Status Shayari – Life Shayari is about both positive and negative events. The finest life shayari with images, sad zindagi shayari, life quotes, and zindagi status in hindi can all be found here.
Bade Hi Ajeeb Hain Ye Zindagi Ke Raaste,
Anjane Mod Par Kuchh Log Apne Ban Jate Hain,
Milne Ki Khushi Dein Ya Na Dein,
Magar Bichadne Ka Gam Zaroor De Jate Hain.
बड़े ही अजीब हैं ये ज़िन्दगी के रास्ते,
अनजाने मोड़ पर कुछ लोग अपने बन जाते हैं,
मिलने की खुशी दें या न दें,
मगर बिछड़ने का गम ज़रूर दे जाते हैं।
Ajeeb Tarah Se Gujar Gayi Meri Bhi Zindagi,
Socha Kuchh, Kia Kuchh, Hua Kuchh, Mila Kuchh.
अजीब तरह से गुजर गयी मेरी भी ज़िन्दगी,
सोचा कुछ, किया कुछ, हुआ कुछ, मिला कुछ।
---
Yeh Dil Mera
Yeh Dil Mera – The phrase "teri awaz ke liye tarasta hai ye dil mera" While adapting, my intezaar has my full attention, Itna dard dene ke bad bhi mohabbat mein.
Uske Siwa Kisi Aur Ko Chahna Mere Bas Mein Nahi Hai,
Ye Dil Uska Hai Apna Hota To Aur Baat Hoti.
उसके सिवा किसी और को चाहना मेरे बस में नहीं है,
ये दिल उसका है अपना होता तो और बात होती।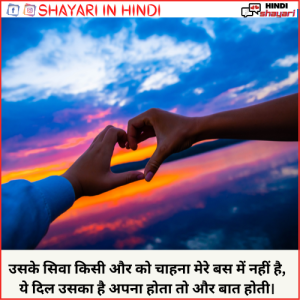 Jism Uska Bhi Mitti Ka Hai Meri Tarah Ai Khuda,
Fir Bhi Mera Dil Hi Kyun Tadapta Hai Uske Liye.
जिस्म उसका भी मिट्टी का है मेरी तरह ऐ खुदा,
फिर भी मेरा दिल ही क्यूँ तड़पता है उसके लिए।
---
Mat Karo
Mat Karo – If your sweetheart becomes upset with you and your heart is hurt because your lover has left the relationship or for any other reason, breakup.
ishq hi nhi samjhi mein,ham sab
kuch gawah baithe use zarurt thi
yaar khilone ki aur hum to apna
dil hi thama baithe.
इश्क़ ही नहीं समझी में,हम सब कुछ
गवाह बैठे,उसे ज़रूरत थी यार खिलोने
की और हम तो अपना दिल ही थमा बैठे.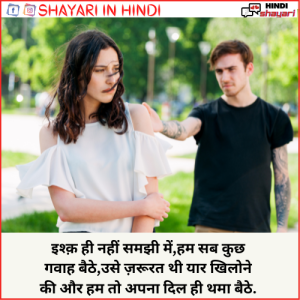 tu mat kar mujhe maf mein gunhegar hi
rahna chahte hun kyuki mein is bar roya
aur rone nhi chahta hun.
तू मत कर मुझे माफ़ में गुन्हेगार ही रहना चाहता हूँ
 क्युकी में इस बार रोया और रोना नहीं चाहता हूँ,