Romantic Love Shayari – Click here to view Romantic Shayari in Hindi. For Facebook and Whatsapp, we offer a lovely selection of the most recent romantic shayari, romantic SMS, and romantic statuses.
Iss Se Zyada Tujhe Aur Kitna Qareeb Laaun Main,
Ki Tujhe Dil Mein Rakh Kar Bhi Mera Dil Nahi Bharta.
इससे ज़्यादा तुझे और कितना करीब लाऊँ मैं,
कि तुझे दिल में रख कर भी मेरा दिल नहीं भरता।
Mohabbat Panap Rahi Hai Dil Mein Tere Liye,
Jubaan Se Na Sahi Tum Nigaahon Se Samajh Lo.
मोहब्बत पनप रही है दिल में तेरे लिए,
जुबाँ से न सही तुम निगाहों से समझ लो।
---
Kasam Se 
Kasam Se  – You may read and share any time with your friends and family from our selection of some of the greatest kasam shayari.
Kasam se jab-jab tum saj dhaj ke saamane aatee ho,
May kee jalatee garmee mein bhee lassee see thandak de jaatee ho !!
कसम से जब-जब तुम सज धज के सामने आती हो,
मई की जलती गर्मी में भी लस्सी सी ठंडक दे जाती हो !!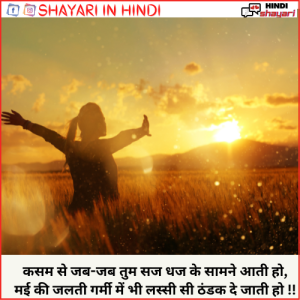 Aakhiree ghoont tak use pila saaqee,
Mayakade kee kasam abhee bhee hosh mein hai vo.
आख़िरी घूंट तक उसे पिला साक़ी,
मयकदे की कसम अभी भी होश में है वो।
---
Humne
Humne – In this category, we have Two Line Shayari ( ) uploaded. You may read the largest collection of two-line short shayaris with deep significance here.
Bhare Bazaar Se Aksar Main Khali Haath Aaya Hoon,
Kabhi Khwahish Nahi Hoti Kabhi Paise Nahi Hote.
भरे बाजार से अक्सर मैं खाली हाथ आया हूँ,
कभी ख्वाहिश नहीं होती कभी पैसे नहीं होते।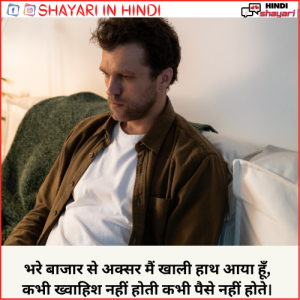 Talab Karein To Main Apni Aankhein Bhi Unhe De Du,
Magar Ye Log Meri Aankhon Ke Khwab Maangte Hain
तलब करें तो मैं अपनी आँखें भी उन्हें दे दूँ,
मगर ये लोग मेरी आँखों के ख्वाब माँगते हैं।