Love Hindi Shayri – Historically, lovers have enjoyed Love Shayari. People still enjoy reading love poetry even in the social media age.
Mohabbat Naam Hai Jiska Wo Aisi Qaid Hai Yaaro,
Ki Umrein Beet Jaati Hain Sazaa Puri Nahin Hoti.
मोहब्बत नाम है जिसका वो ऐसी क़ैद है यारों,
कि उम्रें बीत जाती हैं सजा पूरी नहीं होती।
Woh Rakh Le Kahin Apne Paas Humein Qaid Karke,
Kaash Ke Humse Koi Aisa Gunaah Ho Jaaye.
वो रख ले कहीं अपने पास हमें कैद करके,
काश कि हमसे कोई ऐसा गुनाह हो जाये।
---
Sad Shayari For Lovers
Sad Shayari For Lovers – Here, you may find highly moving sad hindi shayari for lovers with gloomy hearts.
Mujhe Ye Darr Hai Teri Aarzoo Na Mit Jaye,
Bahut Dinon Se Tabiyat Meri Udaas Nahin.
मुझे ये डर है तेरी आरजू न मिट जाये,
बहुत दिनों से तबियत मेरी उदास नहीं।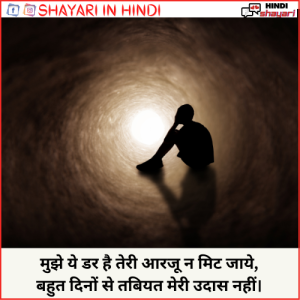 Wo Tere Khat Teri Tasvir Aur Sookhe Phool,
Bahut Udaas Karti Hain Mujhko Nishaniyan Teri.
वो तेरे खत तेरी तस्वीर और सूखे फूल,
बहुत उदास करती हैं मुझको निशानियाँ तेरी।
---
Sad Shayari Of Love
Sad Shayari Of Love – If your breakup with your loved one or their harsh behaviour has left you feeling extremely down.
Ab Na Kholo Mere Ghar Ke Udaas Darwaze,
Hawa Ka Shor Meri Uljhanein Bada Deta Hai.
अब न खोलो मेरे घर के उदास दरवाज़े,
हवा का शोर मेरी उलझनें बढ़ा देता है।
Ek Ye Khwahish Ki Koi Zakhm Na Dekhe Dil Ka,
Ek Ye Hasrat Ke Koi Dekhne Wala To Hota.
एक ये ख्वाहिश के कोई ज़ख्म न देखे दिल का,
एक ये हसरत कि कोई देखने वाला तो होता।