Sad Love Shayari – A great way to convey your inner sentiments is through shayari. So, we're presenting you a lovely selection of moving Hindi Sad Shayari today.
Wo Tere Khat Teri Tasvir Aur Sookhe Phool,
Bahut Udaas Karti Hain Mujhko Nishaniyan Teri.
वो तेरे खत तेरी तस्वीर और सूखे फूल,
बहुत उदास करती हैं मुझको निशानियाँ तेरी।
Ab Na Kholo Mere Ghar Ke Udaas Darwaze,
Hawa Ka Shor Meri Uljhanein Bada Deta Hai.
अब न खोलो मेरे घर के उदास दरवाज़े,
हवा का शोर मेरी उलझनें बढ़ा देता है।
---
Cute Shayari For Girls
Cute Shayari For Girls – Hello friends! If you've been looking for the greatest selection of Hindi Love Cute Shayari on the internet, your quest is over.
Mera mehboob itna pyara hai,
Jaise chand ke paas sitara hai.
मेरा मेहबूब इतना प्यारा है,
जैसे चांद के पास सितारा है।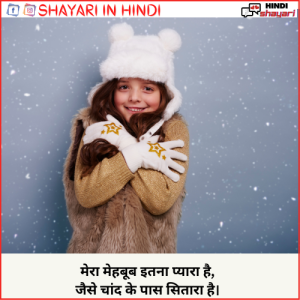 Koshishe meri rang la rahi hai,
Din-b-din wo meri hoti jar hi hai.
कोशिशें मेरी रंग ला रही है,
दिन–ब–दिन वो मेरी होती जा रही है।
---
First Love Proposal Shayari
First Love Proposal Shayari – We discuss the most recent I Love You texts in this article so you may make a special and adorable proposal to your new partner.
Sirf kuch door tak nahi
Zindagi bhar mere sath chalo.
सिर्फ कुछ दूर तक नहीं
ज़िन्दगी भर मेरे साथ चलो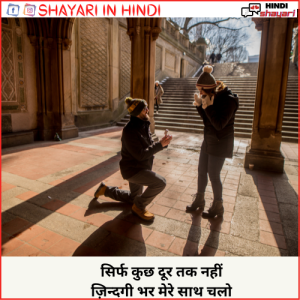 Jaha bhi nazar ghumaoge
Humhi nazar aaenge
Phir jitna humse muh modoge
Utna hi hum yaad aayenge
जहा भी नज़र घुमाओगे
हमही नज़र आएँगे
फिर जितना हमसे मुह मोडोगे
उतना ही हम याद आयेंगे