Love Hindi Shayri – Lovers have always enjoyed Loving Shayari. Everyone enjoys reading love poetry, even in the social media era.
Mohabbat Ek Khushboo Hai Hamesha Saath Rahti Hai,
Koi Inssan Tanhai Mein Bhi Kabhi Tanha Nahi Rahta.
मोहब्बत एक खुशबू है हमेशा साथ रहती है,
कोई इंसान तन्हाई में भी कभी तन्हा नहीं रहता।
Dil Mein Aahat Si Hui Rooh Mein Dastak Goonji,
Kis Ki Khushboo Yeh Mujhe Mere SirHane Aayi.
दिल में आहट सी हुई रूह में दस्तक गूँजी,
किस की खुशबू ये मुझे मेरे सिरहाने आई।
---
Sad Shayari For Lovers
Sad Shayari For Lovers – See our most comprehensive selection of Hindi sad shayari here. Here, you may get highly moving sad hindi shayari for lovers with gloomy hearts.
Mujhe Ye Darr Hai Teri Aarzoo Na Mit Jaye,
Bahut Dinon Se Tabiyat Meri Udaas Nahin.
मुझे ये डर है तेरी आरजू न मिट जाये,
बहुत दिनों से तबियत मेरी उदास नहीं।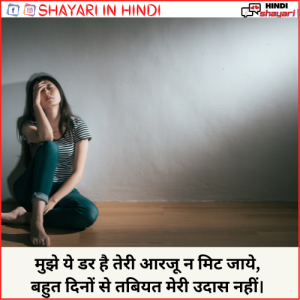 Ek Ye Khwahish Ki Koi Zakhm Na Dekhe Dil Ka,
Ek Ye Hasrat Ke Koi Dekhne Wala To Hota.
एक ये ख्वाहिश के कोई ज़ख्म न देखे दिल का,
एक ये हसरत कि कोई देखने वाला तो होता।
---
Sad Shayari Of Love
Sad Shayari Of Love – On this page, you will find a sizable collection of Hindi Sad Shayari with photos. Your mood will determine whatever Sad Love Shayari you select.
Koi Mila Hi Nahi Jis Ko Saunpte Mohsin,
Hum Apne Khwab Ki Khushboo, Khayal Ka Mausam.
कोई मिला ही नहीं जिस को सौंपते मोहसिन,
हम अपने ख्वाब की खुशबू, ख्याल का मौसम।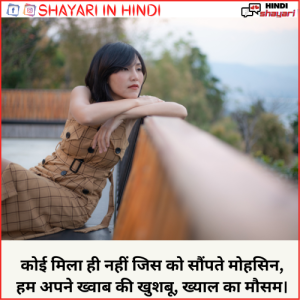 Wo Zeher Deta To Duniya Ki Najron Mein Aa Jata,
So Usne Yoon Kiya Ke Waqt Par Davaa Na Di.
वो ज़हर देता तो दुनिया की नजरों में आ जाता,
सो उसने यूँ किया कि वक़्त पे दवा न दी।