Love Propose Shayari – An offer boosts someone's spirits and makes them feel special. This first-love proposal Shayari can be used to ask someone out.
Tum jabse meri zindagi me aayi ho,
Meri zindgi khti hai ki
Tum hi meri zindgi ban jao.
तुम जबसे मेरी ज़िंदगी मे आयी हो,
मेरी ज़िन्दगी कहती है कि
तुम ही मेरी ज़िन्दगी बन जाओ।
Tum jab-jab sath chlte ho,
Raste aaram se kat jaate hai.
तुम जब–जब साथ चलते हो,
रास्ते आराम से कट जाते है।
---
Achi Achi Shayari
Achi Achi Shayari – Just for you is this special collection of short shayari. Read everything in our collection, then share it as a two-line status on Facebook and WhatsApp.
Buddhiman chup rhte hai
Smjhdaar bolte hai
Murkh behas karte hai.
बुद्धिमान चुप रहते है
समझदार बोलते है
मूर्ख बहस करते है।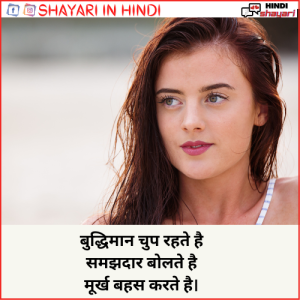 Ye baat zara gehri hai
Ki meri zindgi tumme thahari hai.
ये बात ज़रा गहरी है
कि मेरी ज़िंदगी तुममे ठहरी है।
---
Happiness Shayari
Happiness Shayari – Hello, guys I'm here with the newest Happy Shayari collection. I hope you enjoy this Happy Shayari Hindi post.
Fool bankar muskurana zindagi,
Muskura ke gm bhulana zindagi .
Jeet kar koi khush ho to kya hua
Har kar khushiya manana bhi zindagi.
फूल बनकर मुस्कुराना जिन्दगी,
मुस्कुरा के गम भुलाना जिन्दगी,
जीत कर कोई खुश हो तो क्या हुआ,
हार कर खुशियाँ मनाना भी जिन्दगी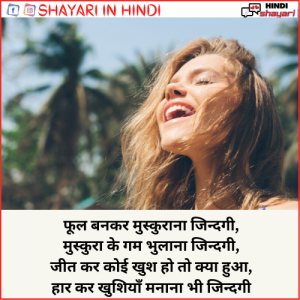 Bano to gulab ke fool bano
Kyunki ye uske hath me bhi
khushbu chhodta h
Jo ise masal kar fenk deta h
बनो तो गुलाब के फूल बनो ,
क्यूंकि ये उसके हाथ में भी 
खुशबू छोड़ता है
जो इसे मसल कर फेंक देता है।