My Love Shayari – Lovers have always enjoyed Loving Shayari. Everyone enjoys reading love poetry, even in the social media era.
Wajah Nafraton Ki Talaashi Jaati Hai,
Mohabbat Toh Bin Wajah Hi Ho Jaati Hai.
वजह नफरतों की तलाशी जाती है,
मोहब्बत तो बिन वजह ही हो जाती है।
Hai Ishq Ki Manzil Mein Haal Ke Jaise,
Lut Jaye Kahin Raah Mein Saman Kisi Ka.
है इश्क़ की मंज़िल में हाल कि जैसे,
लुट जाए कहीं राह में सामान किसी का।
---
Pyari Shayari
Pyari Shayari – Love Shayari has long been popular among lovers. Even in the social media age, everyone enjoys reading love poetry.
Chahat Hui Kisi Se Toh Fir Be-Inteha Hui,
Chaha Toh Chahaton Ki Hadd Se Gujar Gaye,
HumNe Khuda Se Kuchh Bhi Na Manga Magar Usey,
Manga Toh Siskiyon Ki Bhi Hadd Se Gujar Gaye.
चाहत हुई किसी से तो फिर बेइन्तेहाँ हुई,
चाहा तो चाहतों की हद से गुजर गए,
हमने खुदा से कुछ भी न माँगा मगर उसे,
माँगा तो सिसकियों की भी हद से गुजर गये।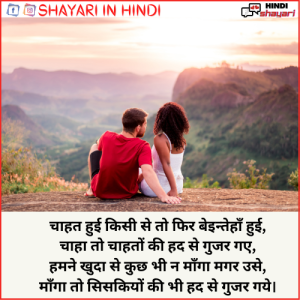 Jisko Chaaho Usey Chahat Bata Bhi Dena,
Kitna Pyar Hai Uss Se Yeh Jataa Bhi Dena,
Yun Na Ho Ki Uska Dil Kahin Aur Lag Jaye,
Karke Izhaar Uske Dil Ko Chura Bhi Lena.
जिसको चाहो उसे चाहत बता भी देना,
कितना प्यार है उससे ये जता भी देना,
यूँ न हो कि उसका दिल कहीं और लग जाए,
करके इजहार उसके दिल को चुरा भी लेना।
---
Sister Ke Liye Shayari
Sister Ke Liye Shayari – Hi guys, I've got the newest Sister Shayari collection for you. I sincerely hope you enjoy this post about Bhai behan Shayari in Hindi.
Foolo ka taro ka sabka khna hai,
Ek hazaro me meri bahna hai.
फूलों का तारो का सबका कहना है,
एक हज़ारों में मेरी बहना है।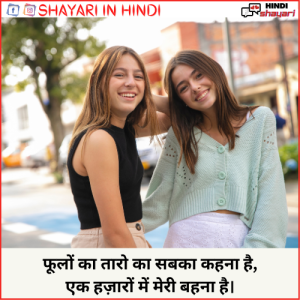 Bahan kitne bhi nakhre wali ho,
Bhai se zyada uske nakhre koi nahi utha sakta.
बहन कितने भी नखरे वाली हो,
भाई से ज़्यादा उसके नखरे कोई नहीं उठा सकता