Pyar Shayari In Hindi – Lovers have always enjoyed Love Shayari. Everyone enjoys reading love poetry, even in the social media era.
Jaagne Ki Bhi Jagaane Ki Bhi Aadat Ho Jaye,
Kaash Tujhko Kisi Shayar Se Mohabbat Ho Jaye.
जागने की भी, जगाने की भी, आदत हो जाए,
काश तुझको किसी शायर से मोहब्बत हो जाए।
Agar Ishq Karo To Aadaab-e-Wafa Bhi Seekho,
Yeh Chand Din Ki Bekaraari Mohabbat Nahin Hoti.
अगर इश्क करो तो आदाब-ए-वफ़ा भी सीखो,
ये चंद दिन की बेकरारी मोहब्बत नहीं होती।
---
Shayari On Eyes
Shayari On Eyes – Best Urdu Shayaris in Hindi Words on Eyes, Aankhein Shayari in Hindi, Nigah Shayari, Najar Shayari, and Shayari on Beautiful Eyes of Girlfriend.
Log Nazron Ko Bhi Parh Lete Hain,
Apni Aankhon Ko Jhukaye Rakhna.
लोग नज़रों को भी पढ़ लेते हैं,
अपनी आँखों को झुकाए रखना।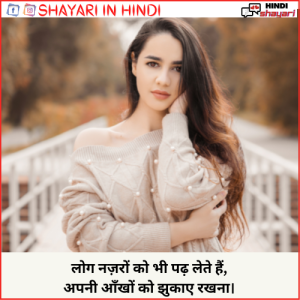 Khwaab Lafzo Mein Nahi Dhalte,
Kaash Aankhein Parha Kare Koi.
ख़्वाब लफ्जों में नहीं ढलते,
काश आँखें पढ़ा करे कोई।
---
Understanding Rishtey Quotes
Understanding Rishtey Quotes – Are you seeking for English Shayari that is heartfelt? Here is a wonderful collection of two-line short love Shayari in English.
Kuchh Is Tarah Khoobsurat Rishtey Toot Jaya Karte Hain,
Dil Bhar Jata Hai To Log Roothh Jaya Karte Hain.
कुछ इस तरह खूबसूरत रिश्ते टूट जाया करते हैं,
दिल भर जाता है तो लोग रूठ जाया करते हैं।
Mashroof Rehne Ka Andaaz Tumhein Tanha Na Kar De,
Rishtey Fursat Ke Nahi Tawajjo Ke Mohtaaz Hote Hain.
मशरूफ रहने का अंदाज़ तुम्हें तन्हा ना कर दे,
रिश्ते फुर्सत के नहीं तवज्जो के मोहताज़ होते हैं।