Naseeb Dua Shayari – Naseeb Shayari, two lines of poetry in Urdu with visuals. The best Naseeb poetry in Urdu has been gathered for you in this post.
Deedar Ki Talab Hai To Najrein Jamaaye Rakh,
Kyuki Naqaab Ho Ya Naseeb Sarakta Jaroor Hai.
दीदार की तलब हो तो नजरें जमाये रख,
क्यूँकि नक़ाब हो या नसीब सरकता जरुर है।
Ye Ped Ye Patte Ye Shakhein Pareshan Ho Jayein,
Agar Parinde Bhi Hindu Aur Musalmaan Ho Jayein.
ये पेड़ ये पत्ते ये शाखें भी परेशान हो जाएं,
अगर परिंदे भी हिन्दू और मुस्लमान हो जाएं।
---
Propose Shayari In English
Propose Shayari In English – For boys who want to propose to girls, there are Shayaris called "Propose Shayari For Girlfreind."
Tum jabse meri zindagi me aayi ho,
Meri zindgi khti hai ki
Tum hi meri zindgi ban jao.
तुम जबसे मेरी ज़िंदगी मे आयी हो,
मेरी ज़िन्दगी कहती है कि
तुम ही मेरी ज़िन्दगी बन जाओ।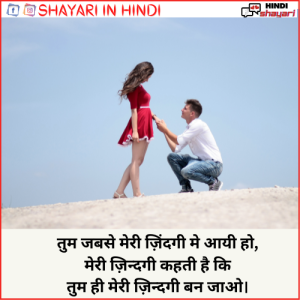 Tum jab-jab sath chlte ho,
Raste aaram se kat jaate hai.
तुम जब–जब साथ चलते हो,
रास्ते आराम से कट जाते है।
---
Love True Love Sorry Shayari
Love True Love Sorry Shayari – Sorry Shayari, Sorry Quotes In Hindi, Sorry To Lover, Sorry Msg For Bf, and Mafi Shayari In Hindi For Girlfriend.
Yun aap sorry keh kar hamein
sharminda na kiya kijiye hum
to bas apke hain humein yun
ger na karar kijiye.
यूँ आप सॉरी कह कर, हमें शर्मिंदा न
किया कीजिये, हम तो बस आपके हैं,
हमें यूँ गैर न करार कीजिये।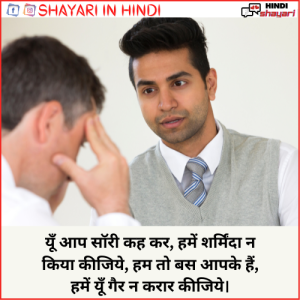 Sorry Kehne Ka Matlab Hai.Ki Aapke
Liye Dil Me Pyar Hai.Ab Jaldi Se Hume
Maaf Kar Do Ai Sanam,Suna Hai Aap
Bahut Samajhdaar Hain.I Am Sorry.
सॉरी कहने का मतलब है,कि आपके लिए
दिल में प्यार है,अब जल्दी से हमे माफ़ कर
दो ऐ सनम,सुना है आप बहुत समझदार हैं।