New Hindi Shayari – To post on social media, people are looking for Shayaris of their choosing. Therefore, it is exceedingly challenging to find a new and superior Shayari ().
Dil Se Poochho To Aaj Bhi Tum Mere Hi Ho,
Ye Aur Baat Hai Ki Kismat Dagaa Kar Gayi.
दिल से पूछो तो आज भी तुम मेरे ही हो,
ये ओर बात है कि किस्मत दगा कर गयी।
Humari Haisiyat Ka Andaza Tum Ye Jaan Ke Laga Lo,
Hum Kabhi Unke Nahi Hote Jo Har Kisi Ke Ho Gaye.
हमारी हैसियत का अंदाज़ा तुम ये जान के लगा लो,
हम कभी उनके नहीं होते जो हर किसी के हो गए।
---
Beete Lamhe Lyrics
Beete Lamhe Lyrics – Most Yaad Shayari collections may be found. newest Urdu, Hindi, and English Shayari. Latest Shayari in Hindi, English, and Urdu from Yaad Shayari collection.
Bhool Jana Use Mushkil To Nahi Hai Lekin,
Kaam Aasaan Bhi Hum Se Kahan Hote Hain.
भूल जाना उसे मुश्किल तो नहीं है लेकिन,
काम आसान भी हमसे कहाँ होते हैं।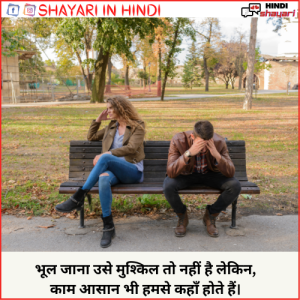 Gujar Gayi Hai Magar Roj Yaad Aati Hai,
Wo Ek Shaam Jise Bhoolne Ki Hasrat Hai.
गुजर गई है मगर रोज याद आती है,
वो एक शाम जिसे भूलने की हसरत है।
---
Main Tera
Main Tera – Lovers have always enjoyed Loving Shayari. Everyone enjoys reading love poetry, even in the social media era.
Agar Ishq Karo To Aadaab-e-Wafa Bhi Seekho,
Yeh Chand Din Ki Bekaraari Mohabbat Nahin Hoti.
अगर इश्क करो तो आदाब-ए-वफ़ा भी सीखो,
ये चंद दिन की बेकरारी मोहब्बत नहीं होती।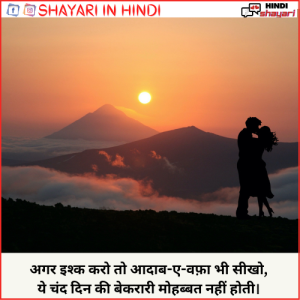 Jaagne Ki Bhi Jagaane Ki Bhi Aadat Ho Jaye,
Kaash Tujhko Kisi Shayar Se Mohabbat Ho Jaye.
जागने की भी, जगाने की भी, आदत हो जाए,
काश तुझको किसी शायर से मोहब्बत हो जाए।