Jindgi Shayari – Downloadable HD shayari pictures for Zindagi Shayari in Hindi and Urdu. With the help of these touching shayari on Zindagi, embrace the beauty of life.
Har khwab aur har khwahish
puri nahi hoti har kisi ki zindagi
me aap zaruri nahi hote.
हर ख्वाब और हर ख्वाहिशें पूरी नहीं होती,
हर किसी के ज़िंदगी में आप जरुरी नहीं होते.
ham sab ki jindagi ka bus ek
hi fasana hai mitti se Bane
hain aur mitti me hi mil jana h.
हम सबकी ज़िंदगी का बस एक ही
फसाना है,मिट्टी से बने है और मिट्टी
में ही मिल जाना है.
---
Barish Ki Dua
Barish Ki Dua – Love Hindi's  list of the top 20 Urdu Poems on Baarish shayari. Types include Ghazals, Nazms, Sher, Shayari Picture, and Qita The Shayari Collection categories.
Tamam raat nahaya tha shahar barish se,
Wo rang utar hi gaye jo utarne wale the.
तमाम रात नहाया था शहर बारिश से,
वो रंग उतर ही गये जो उतरने वाले थे।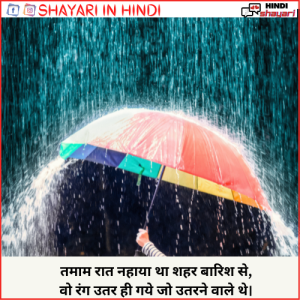 Sare itro ki khushboo aaj mand pad gayi,
Mitti me barish ki boonde jo chand pad gayi.
सारे इत्रों की खुशबू आज मन्द पड़ गयी,
मिट्टी में बारिश की बूंदे जो चंद पड़ गयी।
---
Baithe Hain
Baithe Hain – Read the most recent shayari about a lonely and depressed lover here. New book of poetry on Tanhai, Akelapan, and loneliness.
Har Waqt Ka Hansna Tujhe Barbaad Na Kar De,
Tanhai Ke Lamhon Mein Kabhi Ro Bhi Liya Kar.
हर वक़्त का हँसना तुझे बर्बाद ना कर दे,
​तन्हाई के लम्हों में कभी रो भी लिया कर।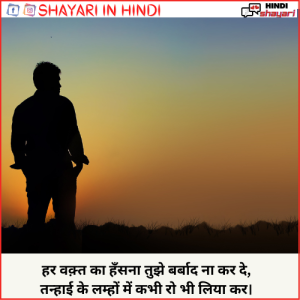 Tanhayian Kuchh Iss Tarah Se Dasne Lagi Mujhe,
Main Aaj Apne Pairon Ki Aahat Se Darr Gaya.
तन्हाईयाँ कुछ इस तरह से डसने लगी मुझे,
मैं आज अपने पैरों की आहट से डर गया।