Night Shayari – Those who like sending good night SMS messages to their pals will undoubtedly find the best good night shayari in hindi to be of great assistance.
Honthh Keh Nahi Sakte Fasaana Dil Ka,
Shayad Najar Se Humari Baat Ho Jaaye,
Is Ummeed Mein Karte Hain Intezaar Raat Ka,
Ki Shayad Sapne Mein Hi Mulakat Ho Jaaye.
होंठ कह नहीं सकते फ़साना दिल का,
शायद नजर से हमारी बात हो जाए,
इस उम्मीद में करते हैं इंतज़ार रात का,
शायद सपने में ही मुलाकात हो जाये।
Is Kadar Hum Aapki Mohabbat Mein Kho Gaye,
Ek Najar Dekha Aur Bas Aapke Hi Ho Gaye,
Aankh Khuli To Pata Chala Dekha Ek Sapna Tha,
Aankh Band Ki Aur Usi Sapne Mein Kho Gaye.
इस कदर हम आपकी मोहब्बत में खो गए,
एक नजर देखा और बस आपके ही हो गए,
आँख खुली तो पता चला देखा एक सपना था,
आँख बंद की और उसी सपने में खो गए।
---
Don Shayari
Don Shayari – This is the Hindi and English translation of the Best Attitude Shayari, friends. Never love your girlfriend with your thoughts or emotions; always adore her with your whole heart.
Wo jigar hi nhi,
Jisme dum na ho,
Beta agar tu badmash hain,
Toh hum bhi kam nhi…
वो जिगर ही नहीं,
जिसमे दम न हो,
बेटा अगर तू बदमाश है,
तो हम भी कम नहीं…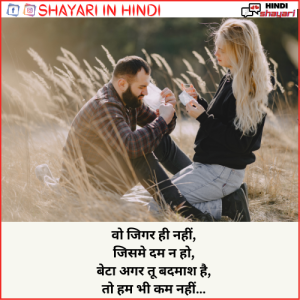 Ab na reply chahiye,
Na hi tera sath,
Tu please apna dhyan rakh,
Mujhe nhi tujhse baat…
अब न रिप्लाई चाहिए,
न ही तेरा साथ,
तू प्लीज अपना ध्यान रख,
मुझे नही करनी तुझसे बात…
---
Love Attitude Quotes
Love Attitude Quotes – Dear friends: Read our most recent selection of Hindi attitude Shayari, status updates, and SMS here.
Humein Shayar Samajh Ke Yoon Najar Andaz Mat Kariye,
Najar Hum Fer Le To Husn Ka Baazar Gir Jayega.
हमें शायर समझ के यूँ नजर अंदाज मत करिये,
नजर हम फेर ले तो हुस्न का बाजार गिर जायेगा।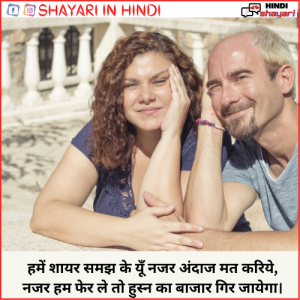 Humari Haisiyat Ka Andaza Tum Ye Jaan Ke Laga Lo,
Hum Kabhi Unke Nahi Hote Jo Har Kisi Ke Ho Gaye.
हमारी हैसियत का अंदाज़ा तुम ये जान के लगा लो,
हम कभी उनके नहीं होते जो हर किसी के हो गए।