Whatsapp Shayari – Hello, guys I'm here to provide the most recent collection of WhatsApp shayari. I sincerely hope you like this WhatsApp shayari article.
mann ki chalakiya h sahab,
bechari zindgi to nadan hi h
मन की चालाकियाँ है साहब ,
बेचारी ज़िंदगी तो नादान ही है।
Kya pata ye waqt fir naa aaye,
Isliye har waqt ko jeete jaaye
क्या पता ये वक़्त फिर ना आये ,
इसलिए हर वक़्त को जीते जाए।
---
Romantic Mohabbat Shayari
Romantic Mohabbat Shayari – Lovers have always enjoyed Loving Shayari. Everyone enjoys reading love poetry, even in the social media era.
Bade saalo se intzar h
Wo aaye aur kh de ki
Mujhe tumse pyar
बड़े सालो से इंतज़ार है
वो आये और कह दे कि
मुझे तुमसे प्यार है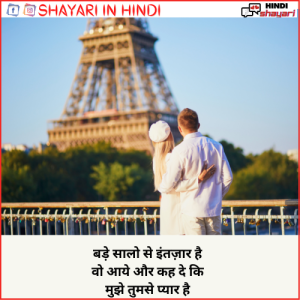 Tum mehsoos kuch is tarah hote ho
Jaise mai mai nahi tum ho
तुम महसूस कुछ इस तरह होते हो
जैसे मैं मैं नही तुम हो
---
Gam Shayari
Gam Shayari – If your sweetheart becomes upset with you and your heart is hurt because your lover has left the relationship or for any other reason, breakup.
ye mohabbat ke hadse Aaksar dilo
ko tod dete hai,tum manzil ki baat
karte ho log rahon me hi sath chod
dete hain.
ये मोहब्बत के हादसे अक्सर दिलों को
तोड़ देते हैं तुम मंजिल की बात करते हो
लोग राहों में ही साथ छोड़ देते हैं.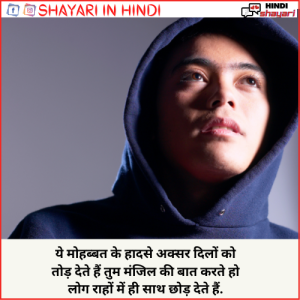 apne wo hotw hai jinhe dard ka ehsaas
ho warna haal – chaal to raste me
aane jaane wale bhi puch lete hain.
अपने वो होते है है जिन्हे दर्द का एहसास 
हो वरना हाल – चाल तो रस्ते में आने जाने 
भी पूछ लिए करते है.