Sad Poetry Bewafa – Your quest is finally done because we are providing some of the top Bewafa (2023) through this article.
Seekh Kar Gaya Hai Wo Mohabbat Mujhse,
Jis Se Bhi Karega Be-Misaal Karega.
सीख कर गया है वो मोहब्बत मुझसे,
जिस से भी करेगा बेमिसाल करेगा।
Har Bhool Teri Maaf Ki
Teri Har Khata Ko Bhula Diya,
Gham Hai Ki Mere Pyar Ka
Tu Ne Bewafai Sila Diya.
हर भूल तेरी माफ़ की
तेरी हर खता को भुला दिया,
गम है कि मेरे प्यार का
तूने बेवफाई सिला दिया।
---
Hindi Family Quotes
Hindi Family Quotes – Download and share Family Shayari in Hindi along with Family Shayari DP Images and HD Photos Wallpaper with your family members.
Yu hi na apne mijaj ko chidchida kijiye,
Koi baat chhoti kare to dil bada kijiye.
यूं ही ना अपने मिजाज को चिडचिडा कीजिये, 
कोई बात छोटी करें तो दिल बड़ा कीजिये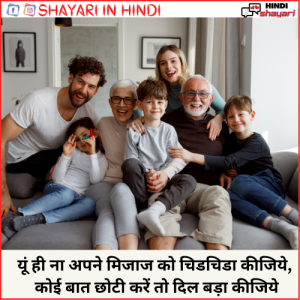 Koi hal dhundh lete hai musibat jab bhi aati hai,
Mere parivar ka har shakhs khuda se kam nahi hai.
कोई हल ढूंढ लेते है मुसीबत जब भी आती है,
मेरे परिवार का हर शख्स खुदा से कम नहीं है।
---
Love Sad
Love Sad – The finest way to communicate your inner grief on social media is using So Sad Shayari.
Yakeen Tha Ke Tum Bhool Jaaoge Mujhko,
Khushi Hai Ke Tum Ummeed Par Khare Utre.
यकीन था कि तुम भूल जाओगे मुझको,
खुशी है कि तुम उम्मीद पर खरे उतरे।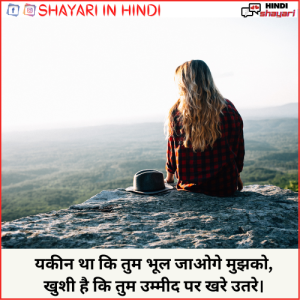 Meri Jagah Koi Aur Ho Toh Cheekh Uthhe,
Main Apne Aap Se Itne Sawaal Karta Hoon.
मेरी जगह कोई और हो तो चीख उठे,
मैं अपने आप से इतने सवाल करता हूँ।