Sex Shayari In Hindi – This Shayari has both nasty Shayari and seductive, hot, and mature Shayari, if those things are what you're looking for.
Raat Raat bhar jaag kar usey yaad karta hu
Usko seene se lagane ke sapne dekha karta hu
रात रात भर जाग कर उसे याद करता हूँ
उसको सीने से लगाने के सपने देखा करता हूँ
Tere jism ki khushbu mein khona chahta hu
Tumse lipat kar main tera hona chahta hu
तेरे जिस्म की खुशबू में खोना चाहता हूँ
तुमसे लिपट कर मैं तेरा होना चाहता हूँ
---
Sex Shayari
Sex Shayari – If you're looking for a seductive, passionate, and mature shayari, this one also fits the bill for nasty shayari.
Tere mehkete badan ko baahon mein bhar lu
Aao tumhe jhuka kar main pyar kar lu
तेरे महकते बदन को बाहों में भर लूँ
आओ तुम्हें झुका कर में प्यार कर लूं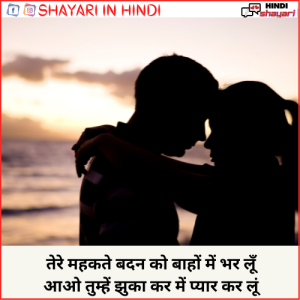 Ban jao meri rani ya ban jao meri ran*
Aaj yeh dil marna chahta hai teri gan*
बन जाओ मेरी रानी या बन जाओ मेरी रां*
आज यह दिल मारना चाहता है तेरी गां*
---
Sexy Shayari
Sexy Shayari – This shayari is both naughty and sexual, which is great if you're looking for a sexy, spicy, and mature shayari.
Thand ke mausam mein thoda garam mahol bana do
Mujhse lipat kar mere jism ki pyas bujha do
ठंड के मौसम में थोड़ा गर्म माहौल बना दो
मुझसे लिपट कर मेरे जिस्म की प्यास बुझा दो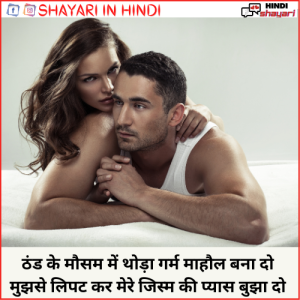 Teri yaad mein raat ko pichkari chhod deta hu
Kuch aise main akele raat guzar leta hu
तेरी याद में रात को पिचकारी छोड़ देता हूँ
कुछ ऐसे मैं अकेले रात गुज़ार लेता हूँ