Sad Shayari For Lovers – Depending on your mood, you can choose from any of the several forms of Sad Love Shayari and spread them wherever you like.
Roj Dhhalti Hui Shaam Se Darr Lagta Hai,
Ab Mujhe Ishq Ke Anjaam Se Darr Lagta Hai,
Jab Se Mila Hai Dhokha Iss Ishq Mein,
Tab Se Ishq Ke Naam Se Bhi Darr Lagta Hai.
रोज ढलती हुई शाम से डर लगता है,
अब मुझे इश्क के अंजाम से डर लगता है,
जब से मिला है धोखा इस इश्क़ में,
तब से इश्क़ के नाम से भी डर लगता है।
Jiske Naseeb Mein Hon Zamane Ki Thhokarein,
Uss BadNaseeb Se Na Sahaaron Ki Baat Kar.
जिसके नसीब मे हों ज़माने की ठोकरें,
उस बदनसीब से ना सहारों की बात कर।
---
Friendship Shayari In Hindi
Friendship Shayari In Hindi – You and your pals will benefit from our friendship shayaris as you strengthen your bonds and friendship relationships.
Dosti Mein Dost, Dost Ka Khuda Hota Hai,
Mahsoos Tab Hota Hai Jab Wo Juda Hota Hai.
दोस्ती में दोस्त, दोस्त का ख़ुदा होता है,
महसूस तब होता है जब वो जुदा होता है।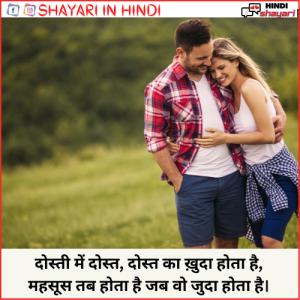 Na Tum Door Jaana Na Hum Door Jayenge,
Apne-Apne Hisse Ki Dosti Ko Nibhayenge.
ना तुम दूर जाना ना हम दूर जायेंगे,
अपने-अपने हिस्से की दोस्ती निभाएंगे।
---
Pyar Bhari Shayari In Hindi
Pyar Bhari Shayari In Hindi – Romantic Piyaar Bhari Shayari Fechbook, Piyaar Bhari In English, Piyaar Bhari Boyfriend, Pyar Bhari Shayari For Girlfriend.
Kitna pyara chehra hai tera hai
kitni pyari muskan teri dekhte hi
hosh ud jaye ishq ke diwane mar
jaye muskan me teri.
कितना प्यारा चेहरा है तेरा है कितनी
प्यारी मुस्कान तेरी देखते ही होश उड़ जाये
इश्क़ के दीवाने मर जाये मुस्कान में तेरी.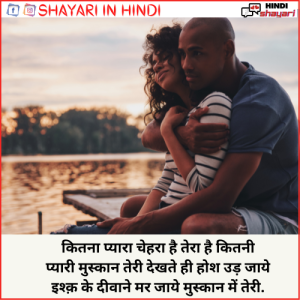 sari duniya ke ruth jane ki parwah
nahi mujhe bas ek tera khamosh
rehna mujhe taklif deta hai.
सारी दुनिया के रूठ जाने की परवाह नहीं मुझे,
बस एक तेरा खामोश रहना मुझे तकलीफ देता.