Zakhm Shayari – Regrets are always the pangs of remembrance, whereas sadness is always the residue of the past. Pictures of shattered hearts, broken heart status, and broken heart.
Dekhi Hothho Ki Hansi Zakhm Na Dekhe Dil Ke,
Aap Bhi Auron Ki Tarha Kha Gaye Dhokha Kaise.
देखी होठों की हँसी ज़ख्म न देखे दिल के,
आप भी औरों की तरह खा गए धोखा कैसे।
Bhula Diye The Jo Waqt Ke Bhanwar Mein Humne,
Aaj Dil Ke Wo Puraane Zakhm Tezaab Ho Gaye.
भुला दिए थे जो वक्त के भंवर में हमने,
आज दिल के वो पुराने ज़ख्म तेज़ाब हो गए।
---
Sad Sms New
Sad Sms New – See our most comprehensive selection of Hindi sad shayari here. Here, you may get highly moving sad hindi shayari for lovers with gloomy hearts.
Ruswa Kar Ke Nikaala Tere Shahar Walo Ne Magar,
Tu Ab Bhi Yehi Sonch, Main Tujhe Chhod Aaya
रुसवा कर के निकला तेरे शहर वालों ने मगर,
तू अब भी यही सोंच, मैं तुझे छोड़ आया।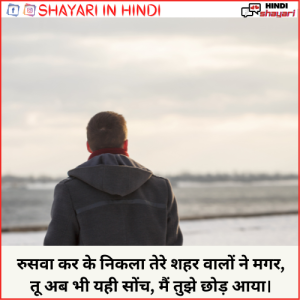 Ye Wafa Ki Sakht Raahein Ye Tumhare Paanvv Nazuk,
Na Lo Intekaam Mujhse Mere Saath-Saath Chal Ke.
ये वफ़ा की सख़्त राहें ये तुम्हारे पाँव नाज़ुक,
न लो इंतकाम मुझसे मेरे साथ-साथ चल के।
---
Status heart Broken
Status heart Broken – For your lover and girlfriend, get the Broken Heart status in Hindi right here. You may communicate your feelings using this Hindi status that reads "Heart Broken."
Zaroori nahi jo shayari kare
Use ishq hi ho,
Zindgi bhi kuch zakhm
Bemisal diya karti hai
ज़रूरी नहीं जो शायरी करे
उसे कभी–कभी इश्क़ हो,
ज़िन्दगी भी कुछ ज़ख्म
बेमिसाल दिया करती है।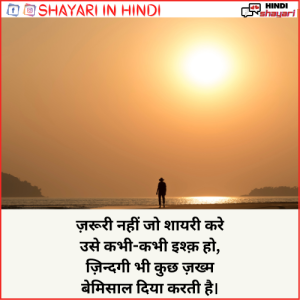 Yaad to tumhe aaegi meri
Jab tum wahi sab
Kisi aur ke sath dohraoge.
याद तो तुम्हे आएगी मेरी….
जब तुम वही सब, 
किसी और के साथ दोहराओगे…