Alone Sad Shayari – Read the most recent shayari about a lonely and depressed lover here. New poetry collection about Tanhai, Akelapan, and loneliness
Apni Tanhaayi Se Tang Aa Kar,
Bahut Se Aaine Khareed Laya Hoon.
अपनी तन्हाई से तंग आ कर,
बहुत से आईने खरीद लाया हूँ।
Jaagne Ka Azaab Seh-Seh Kar,
Apne Andar Hi So Gaya Hoon Main.
जागने का अज़ाब सह-सह कर,
अपने अंदर ही सो गया हूँ मैं।
---
Broken Heart Message In Hindi
Broken Heart Message In Hindi – Shayari and Sms on Heart Break in Hindi, Dil Ke Tootne Par Hindi Shayari, New Broken Heart Shayari, and Broken Heart Shayari.
Kyun Na Saza Milti Humein Mohabbat Mein,
Aakhir Hum Ne Bhi To Bahut Dil Tode Teri Khatir.
क्यूँ न सज़ा मिलती हमें मोहब्बत में,
आखिर हम ने भी तो बहुत दिल तोड़े तेरी खातिर।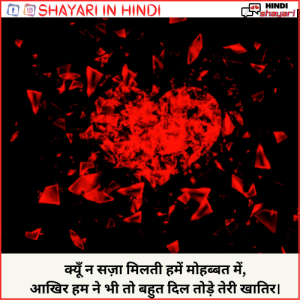 Dilon Ka Khel Jo Khelo To Yeh Bhool Mat Jana,
Ke Khel-Khel Mein Aksar Khilone Toot Jate Hain.
दिलों का खेल जो खेलो तो ये भूल मत जाना,
कि खेल-खेल में अक्सर खिलौने टूट जाते हैं।
---
Shayri For Friends
Shayri For Friends – True friendship is defined by sentiments of care, respect, admiration, concern, love, or similarity. It is not simply a connection of mutual affection between individuals.
Tu Kitni Bhi KhoobSurat Kyun Na Ho Ai Zindagi,
KhushMijaaz Dosto Ke Bagair Tu Achhi Nahi Lagti.
तू कितनी भी खूबसूरत क्यूँ न हो ऐ ज़िंदगी,
खुशमिजाज़ दोस्तों के वगैर तू अच्छी नहीं लगती।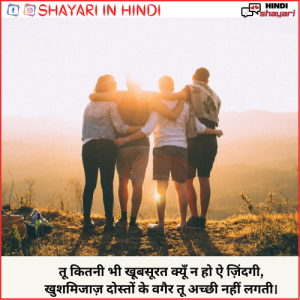 Mere Lafzon Ko Itne Gaur Se Na Parha Karo Dosto,
Kuchh Yaad Rah Gaya Toh Mujhe Bhool Nahi Paaoge.
मेरे लफ़्ज़ों को इतने गौर से ना पढ़ा करो दोस्तों,
कुछ याद रह गया तो मुझे भूल नहीं पाओगे।