Good Morning Shayari – Learn the greatest suprabhat sandesh, shubh prabhat, and new good morning shayari in Hindi ( ), as well as the top good morning shayari of 2023.
Subah Huyi Hawaon Mein Khushbu Mehki,
Pyari Si Subah Kar Rahi Hai Tumhara Intzaar.
Ab Toh Jaag Jaao Aur Khol Do Aankhein,
Humara Message Le Kar Aaya Hai Dher Sara Pyar.
सुबह हुयी हवाओं में खुशबु महकी,
प्यारी सी सुबह कर रही है तुम्हारा इंतज़ार,
अब तो जाग जाओ और खोल दो आँखें,
हमारा सन्देश ले कर आया है ढेर सारा प्यार।
Ugta Huaa Sooraj Duaa De Aapako,
Khilta Huaa Phool Khushaboo De Aapko,
Hum Toh Kuchh Dene Ke Kaabil Nahin Hain,
Dene Wala Hajaar Khushiyaan De Aapko.
उगता हुआ सूरज दुआ दे आपको,
खिलता हुआ फूल खुशबू दे आपको,
हम तो कुछ देने के काबिल नहीं है,
देने वाला हज़ार खुशियां दे आपको।
---
Loving Shayari Hindi
Loving Shayari Hindi – Love is an expression of seasoned heartfelt emotions. Love Shayari () is a powerful tool for expressing romantic feelings.
Badi Ajeeb Si Bandish Hai Uski Mohabbat Mein,
Na Woh Khud Qaid Kar Sake Na Hum Azaad Ho Sake.
बड़ी अजीब सी बंदिश है उसकी मोहब्बत में,
न वो खुद क़ैद कर सके न हम आज़ाद हो सके।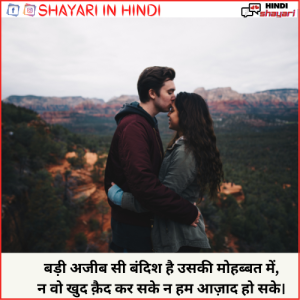 Nahi Pasand Mohabbat Mein Milawat Mujhko,
Agar Wo Mera Hai To Khwab Bhi Bas Mere Dekhe.
नहीं पसंद मोहब्बत में मिलावट मुझको,
अगर वो मेरा है तो ख्वाब भी बस मेरे देखे।
---
Shayari For Funny
Shayari For Funny – The most funny SMS, killer shayari, and shayari for friends, girlfriends, husbands, and wives can all be found here.
Rehta Hai Ibaadat Mein Humein Maut Ka Khatka,
Hum Yaad Khuda Karte Hain Kar Le Na Khuda Yaad.
रहता है इबादत में हमें मौत का खटका,
हम याद ख़ुदा करते हैं कर ले न ख़ुदा याद।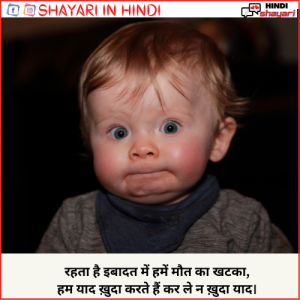 Mayyat Pe Aaye Hain Kuchh Iss Adaa Se Woh,
Sab Unn Pe Mar Mite Hain Mujhe Tanha Chhod Ke.
मय्यत पे मेरी आए हैं कुछ इस अदा से वो,
सब उन पे मर मिटे हैं मुझे तन्हा छोड़ के।