Attitude Shayari – Read our most recent selection of Hindi attitude Shayari, status updates, and SMS here.
Humein Shayar Samajh Ke Yoon Najar Andaz Mat Kariye,
Najar Hum Fer Le To Husn Ka Baazar Gir Jayega.
हमें शायर समझ के यूँ नजर अंदाज मत करिये,
नजर हम फेर ले तो हुस्न का बाजार गिर जायेगा।
Humari Haisiyat Ka Andaza Tum Ye Jaan Ke Laga Lo,
Hum Kabhi Unke Nahi Hote Jo Har Kisi Ke Ho Gaye.
हमारी हैसियत का अंदाज़ा तुम ये जान के लगा लो,
हम कभी उनके नहीं होते जो हर किसी के हो गए।
---
Lover In Hindi
Lover In Hindi – Lovers have always enjoyed Loving Shayari. Everyone enjoys reading love poetry, even in the social media era.
Haal To Puchh Lu Tera Par Darrta Hun Aawaz Se Teri,
Jab Jab Suni Hai Kambakht Mohabbat Hi Huyi Hai.
हाल तो पूछ लूँ तेरा पर डरता हूँ आवाज़ से तेरी,
जब जब सुनी है कमबख्त मोहब्बत ही हुई है।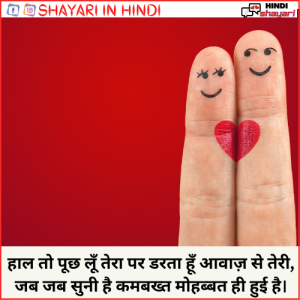 Do Char Lafz Pyar Ke Lekar Hum Kya Karenge,
Deni Hai To Wafa Ki Muqammal Kitaab De Do.
दो चार लफ्ज़ प्यार के लेकर हम क्या करेंगे,
देनी है तो वफ़ा की मुकम्मल किताब दे दो।
---
Funny Messages For Girlfriend In Hindi
Funny Messages For Girlfriend In Hindi – Hello, guys I'm here with the most recent collection of humorous Hindi poetry. I hope you enjoy this Hilarious Shayari article.
itna mujhe sms krte ho
paise nahi lgte tumhare
ya mujhpe marte ho
इतना मुझे SMS करते हो ,
पैसे नहीं लगते तुम्हारे
या मुझपे मरते हो।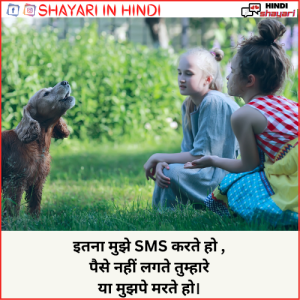 bahar aane se phle fiza aa gayi
aur fool khilne se phle bakri kha gayi
बहार आने से पहले फ़िज़ा आ गयी ,
और फूल खिलने से पहले बकरी खा गयी।