Quotes On Motivation – For a successful existence, motivation is constantly required. Anybody may be inspired and encouraged to advance in life via inspirational poetry.
Udaasiyo Ki Wajah To Bahut Hain Zindagi Main,
Bewajah Khush Rehne Ka Mazaa Hi Kuchh Aur Hai.
उदासियों की वजहें तो बहुत हैं ज़िंदगी में,
बेवजह खुश रहने का मजा ही कुछ और है।
Chiragon Tak Ko Jahan Mayassar Nahi Roshni,
Lau Ummeed Ki Humne Wahan Bhi Jalaaye Rakkhi.
चरागों तक को जहाँ मय्यसर नहीं रौशनी,
लौ उम्मीद की हमने वहाँ भी जलाये रक्खी।
---
Msg Sad Love
Msg Sad Love – See our most comprehensive selection of Hindi sad shayari here. Here you may find highly moving sad hindi shayari for lovers with gloomy hearts.
Ye Wafa Ki Sakht Raahein Ye Tumhare Paanvv Nazuk,
Na Lo Intekaam Mujhse Mere Saath-Saath Chal Ke.
ये वफ़ा की सख़्त राहें ये तुम्हारे पाँव नाज़ुक,
न लो इंतकाम मुझसे मेरे साथ-साथ चल के।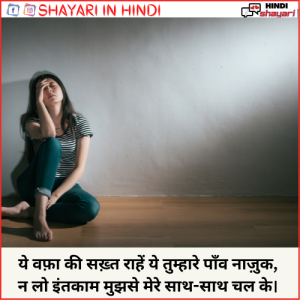 Ruswa Kar Ke Nikaala Tere Shahar Walo Ne Magar,
Tu Ab Bhi Yehi Sonch, Main Tujhe Chhod Aaya
रुसवा कर के निकला तेरे शहर वालों ने मगर,
तू अब भी यही सोंच, मैं तुझे छोड़ आया।
---
1 Line Shayari In Hindi
1 Line Shayari In Hindi – Two Lines Status And Famous Shayari Phrases For Sharing, 2 Line Shayari Status Offers Extremely Heartfelt Lines For Shayari Lovers
Hona To Wohi Hai Jo Muqaddar Mein Likha Hai,
Lekin Wo Mere Khwaab, Mere Khwaab, Mere Khwaab.
होना तो वही है जो मुकद्दर में लिखा है,
लेकिन वो मेरे ख्वाब, मेरे ख्वाब, मेरे ख्वाब।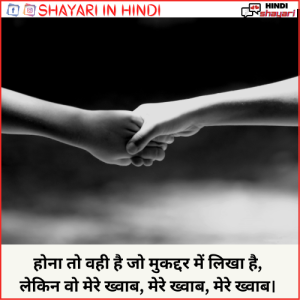 Na Jaane Kaun Se Jhonke Mein Meri Khushboo Ho,
Tum Apne Ghar Ka Dareecha Sada Khula Rakhna.
न जाने कौन से झोंके में मेरी खुशबू हो,
तुम अपने घर का दरीचा सदा खुला रखना।