Attitude Shayri Hindi – Additionally, you may use these Attitude Shayari photos as WhatsApp status updates and Instagram posts. Now go read, and have fun.
Main Na Andar Se Samandar Hoon Na Baahar Se Aasmaan,
Bas Mujhe Utna Samajh Jitna Najar Aata Hoon Main.
मैं न अन्दर से समंदर हूँ न बाहर आसमान,
बस मुझे उतना समझ जितना नजर आता हूँ मैं।
Kiski Mazaal Thi Jo Humko Khareed Sakta Tha,
Hum Khud Hi Bik Gaye Hain Khareedar Dekh Kar.
किसकी मजाल थी जो हमको खरीद सकता था,
हम तो खुद ही बिक गए हैं खरीदार देख कर।
---
Zakhmi Shayari
Zakhmi Shayari – A selection of visually appealing images and photos. Latest Zakhmi Dil Shayari Pictures, Photos, and Hindi Shayari.
kuch is tarha se humari batein
kam ho gai kese ho par shuru
aur thik hun par khatm ho gai.
कुछ इस तरह से हमारी बातें काम
हो गई कैसे हो पर शुरू और ठीक
हूँ पर खत्म हो गई।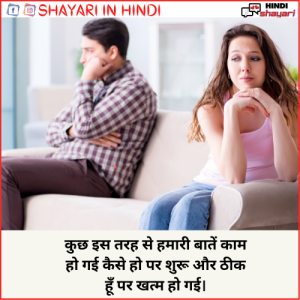 jis jis ko mili khabar sbne ek hi
sawal kiya tumne kyun mohabbat
ki tum to samjhdar the.
जिस जिस को मिली खबर सबने
एक ही सवाल किया, तुमने क्यों
मोहब्बत की तुम तो समझदार थे।
---
Insaaniyat
Insaaniyat – Insaaniyat shayari, aadmi shayari in hindi, insaan shayari, and insaaniyat status for Facebook and WhatsApp are all available here.
Meri Jubaan Ke Mausam Badalte Rehte Hain,
Main To Aadmi Hoon Mera Aitbaar Mat Karna.
मेरी जबान के मौसम बदलते रहते हैं,
मैं तो आदमी हूँ मेरा ऐतबार मत करना।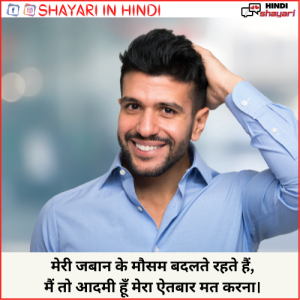 Do-Char Nahi Mujhko Bas Ek Dikha Do,
Wo Shakhs Jo Baahar Se Bhi Andar Ki Tarah Ho.
दो-चार नहीं मुझको बस एक दिखादो,
वो शख़्स जो बाहर से भी अन्दर की तरह हो।