Insaniyat Shayari – Insaniyat Shayari in Hindi Collection of Shayari on Insaan and Insaaniyat. By Love Hindi | Revision date:  2023
Bahut se kagaj mil jate ha ek
khasiyat bech kar log pesa
kamate ha aaj kal insaniyat
bech kar.
बहुत से कागज़ मिल जाते हैं एक
खासियत बेच कर, लोग पैसा कमाते
हैं आज कल इंसानियत बेच कर।
Insaniyat Ki Raah per Tumhen
Chalna Hoga thokere khakar
hi Tumhen sambhalna hoga.
इंसानियत की राह पर तुम्हे चलना होगा
ठोकरे खाकर ही ​भी तुम्हे संभलना होग.
---
Sad Shayari Wallpaper
Sad Shayari Wallpaper – Here you may get all the most popular sad shero-shayari, including shayari for females, sad poetry in urdu, and the greatest sad message for 2023.
Wo Tere Khat Teri Tasvir Aur Sookhe Phool,
Bahut Udaas Karti Hain Mujhko Nishaniyan Teri.
वो तेरे खत तेरी तस्वीर और सूखे फूल,
बहुत उदास करती हैं मुझको निशानियाँ तेरी।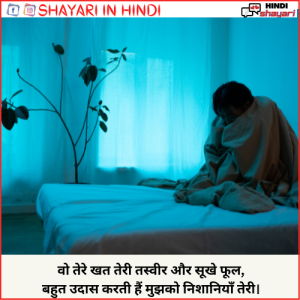 Mujhe Ye Darr Hai Teri Aarzoo Na Mit Jaye,
Bahut Dinon Se Tabiyat Meri Udaas Nahin.
मुझे ये डर है तेरी आरजू न मिट जाये,
बहुत दिनों से तबियत मेरी उदास नहीं।
---
Hindi Short
Hindi Short – You may read the largest collection of two-line short shayaris with deep significance here. All-new Hindi shayari with two lines that are filled with heartfelt feelings.
Main Ek Shaam Jo Roshan Deeya Uthha Laya,
Tamaam Shahar Kahin Se Hawa Uthha Laya
मैं एक शाम जो रोशन दीया उठा लाया,
तमाम शहर कहीं से हवा उठा लाया।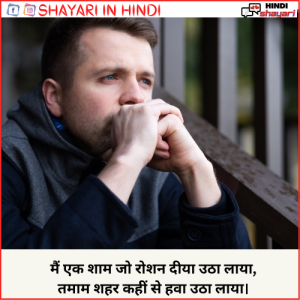 Najron Mein Doston Ki Jo Itna Kharab Hai,
Uska Qasoor Ye Hai Ki Wo Kaamyab Hai
नजरों में दोस्तों की जो इतना खराब है,
उसका कसूर ये है कि वो कामयाब है।