Best Dosti Shayari – Tosti Shayari In Hindi The most recent Dost ke liye Shayari collection is available here with images.
Yaadon Ke Bhanwar Mein Ek Pal Humara Ho,
Khilte Chaman Mein Ek Gul Humara Ho,
Jab Yaad Karein Aap Apne Doston Ko,
Unn Naamon Mein Bas Ek Naam Humara Ho.
यादों के भंवर में एक पल हमारा हो,
खिलते चमन में एक गुल हमारा हो,
जब याद करें आप अपने दोस्तों को,
उन नामों में बस एक नाम हमारा हो।
Toofano Ki Dushmani Se Na Bachte Toh Khair Thi,
Saahil Se Doston Ke Bharam Ne Dubo Diya.
तूफानों ​की दुश्मनी से न बचते तो खैर थी​,
​साहिल से दोस्तों के भरम ने डुबो दिया​।
---
Happy Whatsapp Status
Happy Whatsapp Status – Hindi Version Of Dosti Shayari We are providing the most recent Dost ke liye Shayari with Pictures collection.
Dosti Kis Se Na Thi Kis Se Mujhe Pyar Na Tha,
Jab Bure Waqt Pe Dekha Toh Koi Yaar Na Tha.
दोस्ती किस से न थी किस से मुझे प्यार न था,
जब बुरे वक़्त पे देखा तो कोई यार न था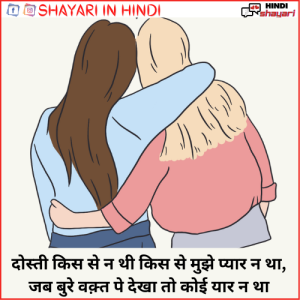 Jo Dil Ke Ho Kareeb Use Ruswa Nahi Karte,
Yun Apni Dosti Ka Tamasha Nahi Karte,
Khamosh Rahoge Toh Ghutan Aur Badegi,
Apno Se Koi Baat Chhupaya Nahi Karte.
जो दिल के हो करीब उसे रुसवा नहीं करते,
यूँ अपनी दोस्ती का तमाशा नहीं करते,
खामोश रहोगे तो घुटन और बढ़ेगी,
अपनों से कोई बात छुपाया नहीं करते।
---
Prem Shayari
Prem Shayari – You can tell your wife, your girlfriend, and other people about these hindu love shayari.
Do Char Lafz Pyar Ke Lekar Hum Kya Karenge,
Deni Hai To Wafa Ki Muqammal Kitaab De Do.
दो चार लफ्ज़ प्यार के लेकर हम क्या करेंगे,
देनी है तो वफ़ा की मुकम्मल किताब दे दो।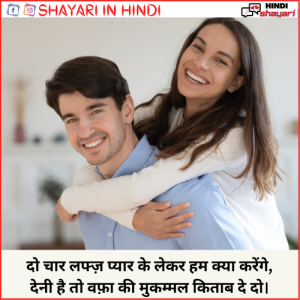 Apna To Chaahaton Mein Yahi Usool Hai,
Jab Tu Qubool Hai To Tera Sub Kuch Qubool Hai.
अपना तो चाहतों में बस यही उसूल है,
जब तू कबूल है तो तेरा सब कुछ कबूल है।