Best Love Shayari in Hindi is a dedicated to showcasing the most heart touching, romantic, and soulful love shayari written in the Hindi language.
Apne Haathon Se Yun Chehre Ko Chhupate Kyun Ho,
Mujhse Sharmate Ho Toh Samne Aate Kyon Ho,
अपने हाथों से यूँ चेहरे को छुपाते क्यूँ हो,
मुझसे शर्माते हो तो सामने आते क्यूँ हो,
Tum Bhi Meri Tarah Kar Lo Iqrar-e-Wafa Ab,
Pyar Karte Ho Toh Phir Pyar Chhupate Kyun Ho?
तुम भी मेरी तरह कर लो इकरार-ए-वफ़ा अब,
प्यार करते हो तो फिर प्यार छुपाते क्यूँ हो?
---
Shayari in Hindi for Love
Shayari in Hindi for Love is a collection of poems and quotes expressing love, romance and devotion in Hindi language.
Yeh Mat Kehna Ke Teri Yaad Se Rishta Nahi Rakha,
Main Khud Tanha Raha Magar Dil Ko Tanha Nahi Rakha,
ये मत कहना कि तेरी याद से रिश्ता नहीं रखा,
मैं खुद तन्हा रहा मगर दिल को तन्हा नहीं रखा,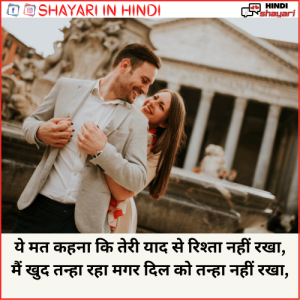 Tumhari Chahton Ke Phool Toh Mehfooz Rakhe Hain,
Tumhari Nafraton Ki Peer Ko Zinda Nahi Rakha.
तुम्हारी चाहतों के फूल तो महफूज़ रखे हैं,
तुम्हारी नफरतों की पीर को ज़िंदा नहीं रखा।
---
Romantic Shayari Love
Romantic Shayari Love is a genre of poetry that expresses the feelings of love, passion, and romance.
Muqammal Na Sahi Adhoora Hi Rahne Do,
Ye Ishq Hai Koi Maqsad Toh Nahi Hai.
मुकम्मल ना सही अधूरा ही रहने दो,
ये इश्क़ है कोई मक़सद तो नहीं है।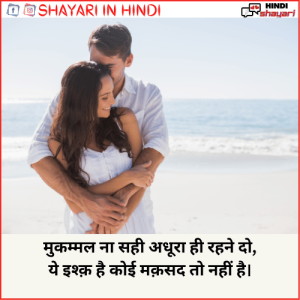 Hamari Aankh Se Girta,
Jo Tere Pyar Ka Moti,
Use Hothon Se Chun Leti,
Agar Tum Saamne Hoti.
हमारी आँख से गिरता जो तेरे प्यार का मोती,
उसे होठों से चुन लेती अगर तुम सामने होती।