Best Sad Shayari – Hi people, are you looking for two-word poems to describe your emotions during happy and sad times?
Mera Jhukna Aur Tera Khuda Ho Jana,
Yaar Achha Nahi Itna Bada Ho Jana.
मेरा झुकना और तेरा खुदा हो जाना,
यार अच्छा नहीं इतना बड़ा हो जाना।
Haal Jab Bhi Poochho Khairiyat Bataate Ho,
Lagta Hai Mohabbat Chhod Di Tum Ne.
हाल जब भी पूछो खैरियत बताते हो,
लगता है मोहब्बत छोड़ दी तुमने।
---
Sister Love Shayari
Sister Love Shayari – Thus, here is a wonderful Shayari for sisters that expresses affection for them. Enjoy the best Hindi two-line shayari right here.
Bheed ho chahe tanhai ho,
Jo kbhi na sath chhode
Bahan tum wo parchai ho.
भीड़ हो चाहे तन्हाई हो,
 जो कभी ना साथ छोड़े,
बहन तुम वो परछाई हो।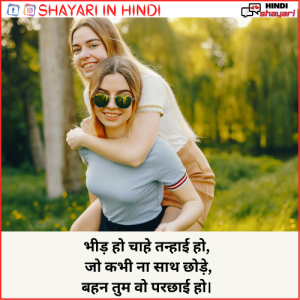 Maine kaha us khuda se
Dena sabse mehanga tohfa,
Usne di bahan kaha-
Sambhalo is anmol rattan ko.
मैंने कहा खुदा से, देना सबसे मंहगा तोहफा,
उसने दी बहन, कहा –
 संभालो इस अनमोल रत्न को।
---
Good Night Photo Shayari
Good Night Photo Shayari – Hello guys! I have the most recent collection of two-line good-night poems. I hope you enjoy this two-line goodnight shayari.
Apno ke beech me raho,
Magar bhkti ki lakire kheechkar
अपनों के बीच में रहो ,
मगर भक्ति की लकीरे खींचकर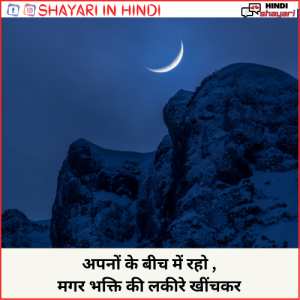 Jeene ka jaha irada hoga,
Waha zindgi se km mila bhi zyada hoga
जीने का जहा इरादा होगा ,
वहा ज़िंदगी से कम मिला भी ज़्यादा होगा