Best Shayari – You would like reading the heartfelt Hindi Shayari found here. For the benefit of shayari fans, we have provided every Shero Shayari in both Hindi and English script.
Na Jee Bhar Ke Dekha Na Kuchh Baat Ki,
Badi Aarzoo Thi Mulaqat Ki,
न जी भर के देखा न कुछ बात की,
बड़ी आरज़ू थी मुलाक़ात की।
Kayi Saal Se Kuchh Khabar Hii Nahi,
Kahaan Din Gujara Kahaan Raat Ki,
कई साल से कुछ ख़बर ही नहीं,
कहाँ दिन गुज़ारा कहाँ रात की।
---
Shayari For Friendship In Hindi
Shayari For Friendship In Hindi – True friendship is defined by sentiments of care, respect, admiration, concern, love, or similarity. It is not simply a connection of mutual affection between individuals.
Log Kehte Hain Zamin Par Kisi Ko Khuda Nahi Milta,
Shayad Unn Logon Ko Dost Koyi Tum Sa Nahi Milta.
लोग कहते हैं ज़मीं पर किसी को खुदा नहीं मिलता,
शायद उन लोगों को दोस्त कोई तुम-सा नहीं मिलता।
Kismat Walon Ko Hi Milti Hai Panaah Kisi Ke Dil Mein,
Yun Har Shakhs Ko Toh Jannat Ka Pata Nahi Milta.
किस्मत वालों को ही मिलती है पनाह किसी के दिल में,
यूं हर शख़्स को तो जन्नत का पता नहीं मिलता।
---
Funny Shayeri
Funny Shayeri – The most funny SMS, killer shayari, and shayari for friends, girlfriends, husbands, and wives can all be found here.
Rehta Hai Ibaadat Mein Humein Maut Ka Khatka,
Hum Yaad Khuda Karte Hain Kar Le Na Khuda Yaad.
रहता है इबादत में हमें मौत का खटका,
हम याद ख़ुदा करते हैं कर ले न ख़ुदा याद।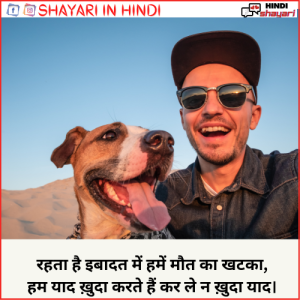 Mayyat Pe Aaye Hain Kuchh Iss Adaa Se Woh,
Sab Unn Pe Mar Mite Hain Mujhe Tanha Chhod Ke.
मय्यत पे मेरी आए हैं कुछ इस अदा से वो,
सब उन पे मर मिटे हैं मुझे तन्हा छोड़ के।