Friendship Shayari In Hindi – True friendship is defined by sentiments of care, respect, admiration, concern, love, or similarity. It is not simply a connection of mutual affection between individuals.
Aadatein Alag Hain Meri Duniya Walo Se,
Dost Kam Rakhta Hoon Par LaJawab Rakhta Hoon.
आदतें अलग हैं मेरी दुनिया वालों से,
दोस्त कम रखता हूँ पर लाजवाब रखता हूँ।
Sachche Dost Kabhi Girne Nahi Dete,
Na Kisi Ki Najron Se Na Kisi Ke Kadmon Mein.
सच्चे दोस्त हमें कभी गिरने नहीं देते,
न किसी कि नजरों मे न किसी के कदमों में।
---
Good Morning Shayri
Good Morning Shayri – Learn the greatest suprabhat sandesh, shubh prabhat, and new good morning shayari in Hindi ( ), as well as the top good morning shayari of 2023.
Subah-Subah Aapko Ek Paigaam Dena Hai,
Aapko Subah Ka Pehla Salaam Dena Hai,
Gujre Sara Din Aapka Khushiyon Mein,
Aapki Subah Ko Khubsoorat Sa Naam Dena Hai.
सुबह-सुबह आपको एक पैगाम देना है,
आपको सुबह का पहला सलाम देना है,
गुजरे सारा दिन आपका खुशी में,
आपकी सुबह को खूबसूरत सा नाम देना है।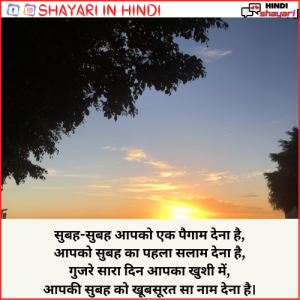 Subah Hote Hi Jab Duniya Aabaad Hoti Hai,
Aankh Khulte Hi Dil Mein Aapki Yaad Hoti Hai,
Khushiyon Ke Phool Ho Aapke Aanchal Mein,
Ye Mere Honthon Pe Pehli Fariyaad Hoti Hai.
सुबह होते ही जब दुनिया आबाद होती है,
आँख खुलते ही दिल में आपकी याद होती है,
खुशियों के फूल हों आपके आँचल में,
ये मेरे होंठों पे पहली फ़रियाद होती है।
---
Hindi Shayri For Love
Hindi Shayri For Love – Love is an expression of seasoned heartfelt emotions. Love Shayari () is a powerful tool for expressing romantic feelings.
Khulta Nahi Hai Haal Kisi Par Kahe Bagair,
Par Dil Ki Jaan Lete Hain Dilbar Kahe Bagair.
खुलता नहीं है हाल किसी पर कहे बग़ैर,
पर दिल की जान लेते हैं दिलबर कहे बग़ैर।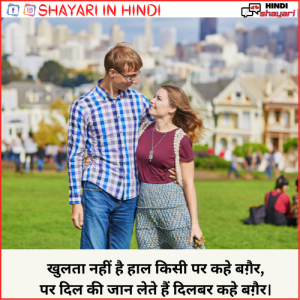 Aankhon Ke Raste Se Mere Dil Mein Utar Gaye,
Banda-Nawaz Aap Toh Hadd Se Gujar Gaye.
आँखों के रास्ते मेरे दिल में उतर गये,
बंदा-नवाज़ आप तो हद से गुज़र गये।