Birthday In Hindi – With our most recent selection of birthday shayari, birthday sms, birthday quotes, and birthday status, you can wish a loved one a happy birthday.
Dil Se Meri Dua Hai Ke Khush Raho Tum,
Mile Na Koi Ghum Jahan Bhi Raho Tum,
Samandar Ki Tarah Dil Hai Gehra Tumhara,
Sadaa Khushio Se Bhara Rahe Daaman
Tumhara.Happy Birthday Dear.
दिल से मेरी दुआ है कि खुश रहो तुम,
मिले न कोई गम जहाँ भी रहो तुम,
समंदर की तरह दिल है गहरा तुम्हारा,
सदा खुशियों से भरा रहे दामन तुम्हारा।
जन्मदिन मुबारक हो।
nikalta hua suraj dua de apko
khilta hua ful khushbu de apko
hum to kuch dene ke kabil nahi
khuda hazar khushiyan de apko.
निकलता हुआ सूरज दुआ दे आपको,
खिलता हुआ फूल खुशबू दे आपको,
हम तो कुछ देने के काबिल नहीं,
खुदा हज़ार खुशियां दे आपको..
हैप्पी बर्थडे.
---
Thought In Hindi
Thought In Hindi – Hello, guys I'm here with the most recent collection of Hindi two-line positive statuses. I hope you enjoy this Hindi post with a two-line positive status.
naseeb me jo aaye le lena,
ye sochna ki apke naseeb ka bhi
logo ko naseeb nahi hota.
नसीब में जो आये ले लेना ,
ये सोचना कि आपके नसीब का भी
लोगो को नसीब नहीं होता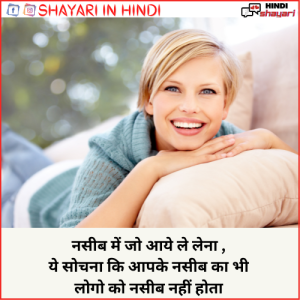 apne to hazaro h,
kami to apnepan ki h
अपने तो हज़ारो है ,
कमी तो अपनेपन की है
---
Alone Shayari In Hindi
Alone Shayari In Hindi – Read the most recent shayari about a lonely and depressed lover here. Poetry about Tanhai, Akelapan, and loneliness is now available.
Aaj Ek Aur Baras Beet Gaya Uske Bagair,
Jis Ke Hote Huye Hote The Zamane Mere.
आज एक और बरस बीत गया उस के बग़ैर,
जिस के होते हुए होते थे ज़माने मेरे।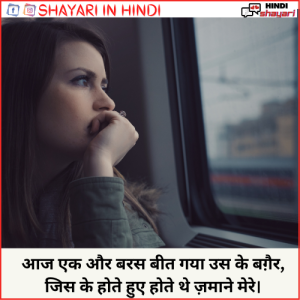 Iss Se Pehle Ki Mujh Ko Sabr Aa Jaye,
Kitna Achha Ho Ki Laut Aao Tum.
इस से पहले कि मुझ को सब्र आ जाए,
कितना अच्छा हो कि लौट आओ तुम।