Broken Heart Sad Status – Hello, friends Have you ever had a heartbreak? Are you depressed? Simply read through our special selection of broken heart shayari to relax.
Dil Ki Kya Bisaat Thi Nigaah-e-Jamaal Mein,
Ek Aayina Tha Toot Gaya Dekh-Bhaal Mein
दिल की क्या बिसात थी निगाह-ए-जमाल में,
इक आइना था टूट गया देख-भाल में।
Aisa Nahi Hai Ki Ab Teri Justjoo Nahi Rahi,
Bas Toot Kar Bikharne Ki Aarzoo Nahi Rahi.
ऐसा नहीं है कि अब तेरी जुस्तजू नहीं रही,
बस टूट कर बिखरने की आरज़ू नहीं रही।
---
Motivation Shayari In Hindi
Motivation Shayari In Hindi – Inspirational Shayari are available to download in Hindi and Urdu in high definition. written by eminent authors and poets.
Kaam Karo Aisa Ki Ek Pehchaan Ban Jaye,
Har Kadam Aisa Chalo Ki Nishan Ban Jaye,
Yehan Zindagi To Har Koi Kaat Leta Hai,
Zindagi Jiyo Iss Kadar Ki Misaal Ban Jaye.
काम करो ऐसा कि एक पहचान बन जाये,
हर कदम ऐसा चलो कि निशान बन जाये,
यहाँ ज़िन्दगी तो हर कोई काट लेता है,
ज़िन्दगी जियो इस कदर कि मिसाल बन जाये
Deeya Bujhaane Ki Fitrat Badal Bhi Sakti Hai,
Koi Chirag Hawa Pe Dawaab To Daale.
दीया बुझाने की फितरत बदल भी सकती है,
कोई चिराग हवा पे दवाब तो डाले।
---
Latest Shayari
Latest Shayari – HD shayari photos with inspirational verses are available for download in Hindi and Urdu.
Chiragon Tak Ko Jahan Mayassar Nahi Roshni,
Lau Ummeed Ki Humne Wahan Bhi Jalaaye Rakkhi.
चरागों तक को जहाँ मय्यसर नहीं रौशनी,
लौ उम्मीद की हमने वहाँ भी जलाये रक्खी।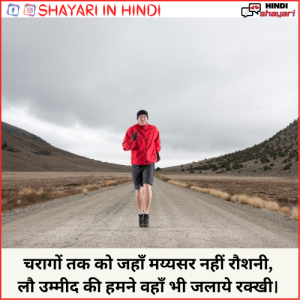 Udaasiyo Ki Wajah To Bahut Hain Zindagi Main,
Bewajah Khush Rehne Ka Mazaa Hi Kuchh Aur Hai.
उदासियों की वजहें तो बहुत हैं ज़िंदगी में,
बेवजह खुश रहने का मजा ही कुछ और है।