New Attitude Status – Every few weeks, we update our Attitude Status and Shayari for Boys and Girls so that you can read the most recent updates.
Aankh Uthha Kar Bhi Na Dekhoon, Jis Se Mera Dil Na Mile,
Jabran Sabse Haath Milana, Mere Bas Ki Baat Nahin.
आँख उठाकर भी न देखूँ, जिससे मेरा दिल न मिले,
जबरन सबसे हाथ मिलाना, मेरे बस की बात नहीं।
Itna Bhi Gumaan Na Kar Apni Jeet Par Ai Bekhabar,
Shahar Mein Teri Jeet Se Jyada Charche To Meri Haar Ke Hain.
इतना भी गुमान न कर अपनी जीत पर ऐ बेखबर,
शहर में तेरी जीत से ज्यादा चर्चे तो मेरी हार के हैं।
---
Good Morning Reply
Good Morning Reply – Greetings, Shayari. Greatest collection of Shayari in Hindi for "good morning," "good morning," and "photos".
Fir Subah Ek Nayi Roshni Hui,
Fir Ummeedein Neend Se Jhankti Mili,
Waqt Ka Panchhi Gharonde Se Uda,
Ab Kahan Le Jaaye Toofan Kya Pata.
Good Morning.
फिर सुबह एक नई रोशन हुई,
फिर उम्मीदें नींद से झाँकती मिली,
वक़्त का पंछी घरोंदे से उड़ा,
अब कहाँ ले जाए तूफाँ क्या पता।
सुप्रभात।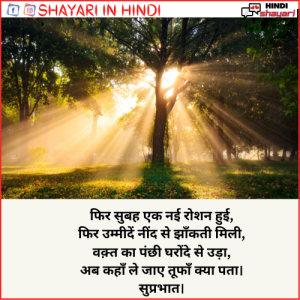 Sooraj Ke Bina Subah Nahi Hoti,
Chaand Ke Bina Raat Nahi Hoti,
Badal Ke Bina Barsaat Nahi Hoti,
Aur Aapki Yaad Ke Bina Dost
Din Ki Shuruat Nahi Hoti.
Good Morning.
सूरज के बिना सुबह नहीं होती,
चाँद के बिना रात नहीं होती,
बादल के बिना बरसात नहीं होती,
और आपकी याद के बिना दोस्त,
दिन की शुरुआत नहीं होती।
शुभ प्रभात।
---
Bhai Behan Ka Rishta Quotes
Bhai Behan Ka Rishta Quotes – Hello guys! I have the most recent collection from Sister Shayari. I sincerely hope you enjoy this post about Bhai behan Shayari in Hindi.
Wo badi hai to maa-baap se bachata hai,
Aur chhoti hai to humare peeth-peeche chup jati hai.
वो बड़ी है तो माँ–बाप से बचाती है,
और छोटी है तो हमारे पीठ–पीछे छुप जाती हैं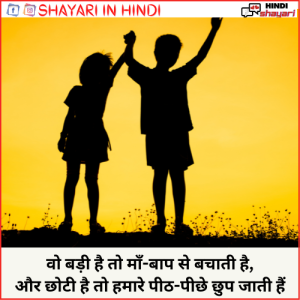 Sabse pyari meri bahna,
Nadiyo ki tarah behti rhna
Jab bhi tujhe lage meri zarurat
Bejhijhak tu mujhse khan
सबसे प्यारी मेरी बहना,
नदियों की तरह बहती रहना,
जब भी तुझे लगे मेरी जरूरत,
बेझिझक तू मुझसे कहना।