Dard Bhare Status – Hindi Dard Bhari Shayari Dard shayari is a style of poetry that is written when someone's heart is in excruciating anguish.
Bahut Dard Hai Ai Jaan-e-Adaa Teri Mohabbat Mein,
Kaise Keh Doon Ki Tujhe Wafa Nibhani Nahi Aati.
बहुत दर्द हैं ऐ जान-ए-अदा तेरी मोहब्बत में,
कैसे कह दूँ कि तुझे वफ़ा निभानी नहीं आती।
Mere Dard Ka Jara Sa Hissa Lekar To Dekho,
Sadiyon Tak Yaad Karte Rahoge Tum Bhi.
मेरे दर्द का जरा सा हिस्सा लेकर तो देखो,
सदियों तक याद करते रहोगे तुम भी।
---
Best Shayari
Best Shayri – You would like reading the heartfelt Hindi Shayari found here. For the benefit of those who enjoy shayari, we have included every Shero Shayari in both Hindi and English script.
Dil Se Poochho To Aaj Bhi Tum Mere Hi Ho,
Ye Aur Baat Hai Ki Kismat Dagaa Kar Gayi.
दिल से पूछो तो आज भी तुम मेरे ही हो,
ये ओर बात है कि किस्मत दगा कर गयी।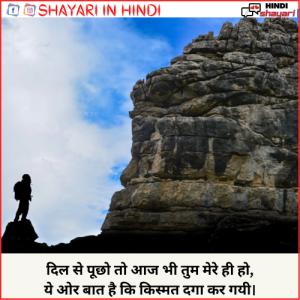 Humari Haisiyat Ka Andaza Tum Ye Jaan Ke Laga Lo,
Hum Kabhi Unke Nahi Hote Jo Har Kisi Ke Ho Gaye.
हमारी हैसियत का अंदाज़ा तुम ये जान के लगा लो,
हम कभी उनके नहीं होते जो हर किसी के हो गए।
---
Bad Kismat Shayari
Bad Kismat Shayari – Madad Se Apne Nasib Par Bharosa Rakhna Chhod Doge Bad Kismat Shayari Ke Sath Apne Bhagya Ka Sujhav Khud Karna Chahoge Kismat Shayari In Hindi
Ab kismat par kesa bharosa
janab jab jan se pyare log
badal gaye to kismat bhi ek
din badal jayengi.
अब किस्मत पर कैसा भरोसा जनाब,
जब जान से प्यारे लोग बदल गए,
तो किस्मत भी एक दिन बदल जाएगी।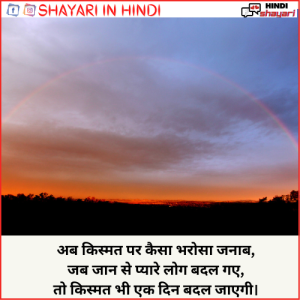 Jinka milna kismat me
nahi hota unse mohabbat
kasam se kamal ki hoti ha.
जिनका मिलना किस्मत में नही
होता, उनसे मोहब्बत कसम से
कमाल की होती है।