Hindi Shayari Image – You would like reading the heartfelt Hindi Shayari found here. For the benefit of those who enjoy shayari, we have included every Shero Shayari in both Hindi and English script.
Mujhe Kuchh Bhi Nahi Kehna Itni Si Gujarish Hai,
Bas Utni Baar Mil Jaao Ki Jitna Yaad Aate Ho
मुझे कुछ भी नहीं कहना इतनी सी गुजारिश है,
बस उतनी बार मिल जाओ जितना याद आते हो।
Har Ek Pehlu Tera Mere Dil Me Aabaad Ho Jaye,
Tujhe Main Iss Kadar Dekhu Mujhe Tu Yaad Ho Jaye.
हर एक पहलू तेरा मेरे दिल में आबाद हो जाये,
तुझे मैं इस क़दर देखूं मुझे तू याद हो जाये।
---
Sad Poetry In Hindi
Sad Poetry In Hindi – Every soul carries regrets and complaints with them throughout their daily lives, and sad shayari is a representation of those feelings.
Wo Tere Khat Teri Tasvir Aur Sookhe Phool,
Bahut Udaas Karti Hain Mujhko Nishaniyan Teri.
वो तेरे खत तेरी तस्वीर और सूखे फूल,
बहुत उदास करती हैं मुझको निशानियाँ तेरी।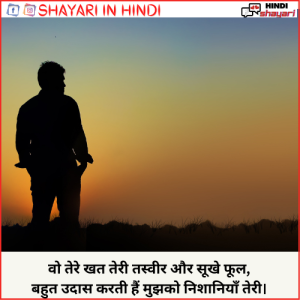 Mujhe Ye Darr Hai Teri Aarzoo Na Mit Jaye,
Bahut Dinon Se Tabiyat Meri Udaas Nahin.
मुझे ये डर है तेरी आरजू न मिट जाये,
बहुत दिनों से तबियत मेरी उदास नहीं।
---
Tanhaiyan
Tanhaiyan – Read the most recent shayari about a lonely and depressed lover here. New poetry collection about Tanhai, Akelapan, and loneliness.
Har Waqt Ka Hansna Tujhe Barbaad Na Kar De,
Tanhai Ke Lamhon Mein Kabhi Ro Bhi Liya Kar.
हर वक़्त का हँसना तुझे बर्बाद ना कर दे,
​तन्हाई के लम्हों में कभी रो भी लिया कर।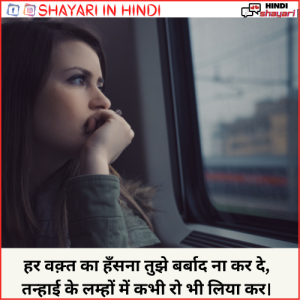 Tanhayian Kuchh Iss Tarah Se Dasne Lagi Mujhe,
Main Aaj Apne Pairon Ki Aahat Se Darr Gaya.
तन्हाईयाँ कुछ इस तरह से डसने लगी मुझे,
मैं आज अपने पैरों की आहट से डर गया।