Dard Sad Shayari – Dard Bhari Shayari is a type of poetry that conveys distressing emotional states. We have gathered the greatest collection of English and Hindi Dard Shayari.
Shayari Mein SimatTe Kahan Hain Dil Ke Dard Dosto,
Behla Rahe Hain Khud Ko Jara Kagzon Ke Saath.
शायरी में सिमटते कहाँ हैं दिल के दर्द दोस्तों,
बहला रहे हैं खुद को जरा कागजों के साथ।
In Mein Kya Farq Hai Ab Iss Ka Bhi Ehsaas Nahi,
Dard Aur Dil Ka Zara Dekhiye Ek Sa Hona.
इनमें क्या फ़र्क़ है अब इस का भी एहसास नहीं,
दर्द और दिल का जरा देखिये एक सा होना।
---
Hindi Shyari In Love
Hindi Shyari In Love – Love is an expression of seasoned heartfelt emotions. Love Shayari () is a powerful tool for expressing romantic feelings.
Tum Hakiqat Ho Ya Fareb Meri Aankhon Ka,
Na Dil Se Nikalte Ho Na Zindagi Mein Aate Ho.
तुम हकीकत हो या फरेब मेरी आँखों का,
न दिल से निकलते हो न जिंदगी में आते हो।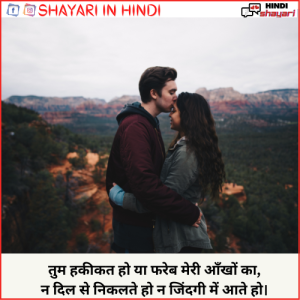 Nahi Pasand Mohabbat Mein Milawat Mujhko,
Agar Wo Mera Hai To Khwab Bhi Bas Mere Dekhe.
नहीं पसंद मोहब्बत में मिलावट मुझको,
अगर वो मेरा है तो ख्वाब भी बस मेरे देखे।
---
Love Shayari
Love Shayari – Lovers have always enjoyed Loving Shayari. Everyone enjoys reading love poetry, even in the social media era.
Jaagne Ki Bhi Jagaane Ki Bhi Aadat Ho Jaye,
Kaash Tujhko Kisi Shayar Se Mohabbat Ho Jaye.
जागने की भी, जगाने की भी, आदत हो जाए,
काश तुझको किसी शायर से मोहब्बत हो जाए।
Jaan-e-Mann Kaam To Achchha Hai Mohabbat Lekin,
Hum Ko Is Kaam Ke Anjaam Se Darr Lagta Hai.
जान-ए-मन काम तो अच्छा है मोहब्बत लेकिन,
हमको इस काम के अंजाम से डर लगता है।