Dard Bhari Shayari – Dard Bhari Shayari experiences a great deal of suffering. The most recent collection of Dard Shayari in Hindi with English typeface is shown below.
Kitna Lutf Le Rahein Hain Log Mere Dard-o-Gham Ka,
Ai Ishq Dekh Tu Ne To Mera Tamaasha Hi Bana Diya.
कितना लुत्फ ले रहे हैं लोग मेरे दर्द-ओ-ग़म का,
ऐ इश्क़ देख तूने तो मेरा तमाशा ही बना दिया।
Mere Dard Ka Jara Sa Hissa Lekar To Dekho,
Sadiyon Tak Yaad Karte Rahoge Tum Bhi.
मेरे दर्द का जरा सा हिस्सा लेकर तो देखो,
सदियों तक याद करते रहोगे तुम भी।
---
Aahat Shayari
Aahat Shayari – We often look for ways to impress our beloved ones. Especially, when we have a lady in our life, we always want to bring a smile to her face.
Aankhon Se Hui Bowling Gira Dil ka Wicket
Mohabatt Ki Dunia Ka Ye Hai Ek Chota Sa Gift
आँखों से हुई बोलिंग गिरा दिल का विकेट
मोहबत्त की दुनिआ का ये है एक छोटा सा गिफ्ट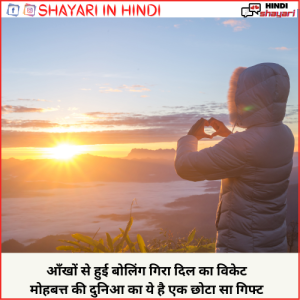 Mohabbat Me Aksar Ikraar Nahi Hota
Chahat Ka Koi Pramaan Nahi Hota
Ye To Vo Mohabbat-e-Paigaam Hai, Meri Jaan
Jo Har Kafir Ko Naseeb Nahi Hota!
मोहब्बत में अक्सर इकरार नहीं होता
चाहत का कोई प्रमाण नहीं होता
ये तो वो मोहब्बत-इ-पैगाम है मेरी जां
जो हर काफिर को नसीब नहीं होता!
---
Boys Attitude Shayari
Boys Attitude Shayari – Positive attitude is not a bad thing. Your attitude will enable you to succeed in life by trying new things.
Humare dushamn sirf aag
se hi nahi jalte kuch to humare
Attitude ke andaj se jal jate ha.
हमारे दुश्मन सिर्फ आग से ही नहीं
जलते, कुछ तो हमारे ऐटिटूड के
अंदाज से जल जाते है.
Humare Attitude thoda alag
ha hum ummid par nahi apni
zid par jeete ha.
हमारे Attitude थोड़ा अलग है हम
उमीद पर नहीं अपनी ज़िद पर जीते हैं.