Dhokebaaz Shayari – Hello, guys I'm here with the most recent Dhokebaaz Shayari collection. I hope you enjoy this post on Dhokebaaz Shayari in Hindi. The Dhokebaaz Shayari Photo and photos are available for download.
Dhokhebaj Shayari – धोखेबाज शायरी
Aisa lagta hai mano,
Maine khudse hi dhokha kar diya
Ek dhokhebaaz se mohabbat karke
ऐसा लगता है मानो,
मैंने खुदसे ही धोखा कर दिया
एक धोखबाज़ से मोहबत करके।
Wo isliye kadra na kar sake mohabbat ki,
Kyunki unhe dhokha hi pyara tha.
वो इसलिए कद्र ना कर सके मोहब्बत की,
क्योंकि उन्हें धोखा ही प्यारा था।
---
Brother Shayari
Brother Shayari – Welcome to love hindi.com  most popular website, where you can find the most recent Brother Shayari in Hindi. But the most stunning relationship in the world is that between a brother and a sister.
Lakhan Ko Jaise Ram Mile
Balraam Ko Krishn  Jasse Bhai
Mujhako Aise Hi Is Jahaan Mein
Mile Hai Mere Pyaare Bade Bhai
लखन को जैसे राम मिले
 बलराम को कृष्ण भाई 
 मुझको ऐसे ही इस जहाँ में 
मिले है मेरे प्यारे बड़े भाई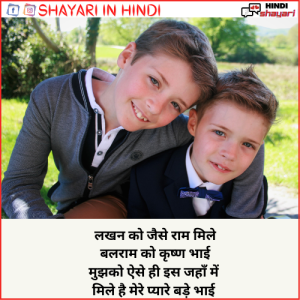 Sab Se Alag Hain  Bhaiya  Mera,
Sab Se Pyaara Hai  Bhaiya  Mera,
सब से अलग हैं भैया मेरा,
सब से प्यारा है भैया मेरा,
---
Sad Shayari For Boys
Sad Shayari For Boys – Currently experiencing melancholy and wishing to express it to a friend but not knowing how .
Har Kise ke bas ke baat Nahi rishte nibhana
Dil dukhana padta hai Kise aur ki Khushi ke liye.
हर किसी के बस की बात नही रिश्ता निभाना
दिल दुखाना पड़ता है किसी और कि खुशी के लिये ।।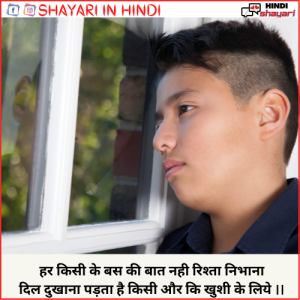 Sasti Hai Gumnami Ke Bech Rahne se,
Achaa Hai Ek Baar Kho Jye Gumsuda
Roj Hone Se….

सस्ती है गुमनामी दुनिया के बीच रहने से
अच्छा है एक बार खो जाए गुमशुदा रोज होने से ।।