Do Line Shayari – Read the most recent collection of brief 2 Line Shayari, SMS, and Status in Hindi. Please leave a favourable comment or feedback if you enjoy this two-line shayari.
Kis Liye Katra Ke Jata Hai Musafir Dum To Le,
Aaj Sukha Ped Hoon Kal Tera Saaya Main Hi Tha.
किस लिए कतरा के जाता है मुसाफिर दम तो ले,
आज सूखा पेड़ हूँ कल तेरा साया मैं ही था।
Girna Tha Jo Aapko Toh Sau Maqaam The,
Ye Kya Kiya Ke Nigaahon Se Gir Gaye.
गिरना था जो आपको तो सौ मक़ाम थे,
ये क्या किया कि निगाहों से गिर गए।
---
Acchi Shayari
Acchi Shayari – Leave a positive review or comment if you enjoy these two-line shayari.
Duniya Fareb Karke HunarMand Ho Gayi,
Hum Aitbaar Karke Gunaahgar Ho Gaye.
दुनिया फ़रेब करके हुनरमंद हो गई,
हम ऐतबार करके गुनाहगार हो गए।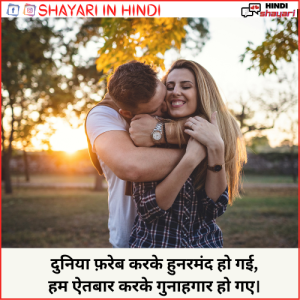 Agar Bikne Pe Aa Jao Toh Ghat Jate Hain Daam Aksar,
Na Bikne Ka Iraada Ho Toh Keemat Aur Barhti Hai.
अगर बिकने पे आ जाओ तो घट जाते हैं दाम अक्सर,
न बिकने का इरादा हो तो क़ीमत और बढ़ती है।
---
Bhai Behan Quotes In English
Bhai Behan Quotes In English – Hello guys! I have the most recent collection from Sister Shayari. I sincerely hope you enjoy this post about Bhai behan Shayari in Hindi.
Bahna sath hai jo tera to duniya jeet lunga,
Warna do kadam bhi chalna mushkil hoga.
बहना साथ है जो तेरा तो दुनिया जीत लूंगा,
वरना दो कदम भी चलना मुश्किल होगा।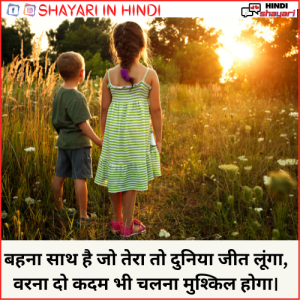 Wo badi hai to maa-baap se bachata hai,
Aur chhoti hai to humare peeth-peeche chup jati hai.
वो बड़ी है तो माँ–बाप से बचाती है,
और छोटी है तो हमारे पीठ–पीछे छुप जाती हैं