Bhai Behan Shayari – Friends, The relationship between the sister and his brother is unshakable, sour-sweet, and filled with affection, as we will see in the sister Shayari and status Shayari that we are presenting today.
Pyaar mein yah bhi jaruri hai,
Behno ki ladai ke bina
Zindagi adhuri hai
प्यार में यह भी जरुरी है,
बहनों की लड़ाई के बिना
ज़िन्दगी अधूरी है ||
Ae khuda meri duaon mein
Itna asar rahe ,
Phoolon se bhara sada,
Meri behno ka ghar rahe !!
 ऐ खुदा मेरी दुआओं में
इतना असर रहे,
फूलों से भरा सदा,
मेरी बहनों का घर रहे !!
---
Shayari On Smile In Hindi
Shayari On Smile In Hindi – Have joy by reading the most recent Shayari on grin In Hindi. The purpose of the Shayari is to communicate one's sentiments towards others.
thodi si smile thodi si khushi
thoda sa pyaar kisi ko de do to wo
duniya ka sabse bada dhanwan
aur pyaara insaan kahalyega.
थोड़ी सी Smile थोड़ी सी Khushi,
थोड़ा सा प्यार किसी को दे दो,तो
वो दुनिया का सबसे बड़ा धनवान,
और प्यारा इंसान कहलायेगा.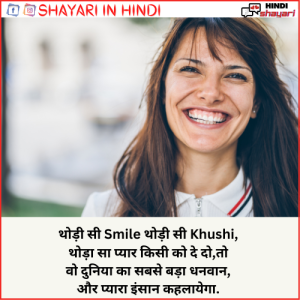 Zindagi ek hasin khwab hai
isme jine ki chahat honi chahiye
gam khud-b-khud khushi mein
badal jayega sirf muskurane ki
adat honi chahiye.
जिंदगी एक हसीन ख्वाब हैं
इसमे जीने की चाहत होनी चाहिये
गम खुद-ब-खुद ख़ुशी में बदल जायेगा
सिर्फ मुस्कुराने की आदत होनी चाहिये.
---
mast shayari
mast shayari – We are providing the most recent Mast wali Shayari collection with images. On our site, you may find the best photos, messages, quotes, status updates, and videos.
upar se gussa dil se pyar karte ho,
nazaren churate ho dil beqaraar karte ho,
laakh chhupao duniya se mujhe khabar hai,
tum mujhe khud se bhi jyada pyar karte ho…
ऊपर से गुस्सा दिल से प्यार करते हो,
नज़रें चुराते हो दिल बेक़रार करते हो,
लाख़ छुपाओ दुनिया से मुझे ख़बर है,
तुम मुझे ख़ुद से भी ज्यादा प्यार करते हो…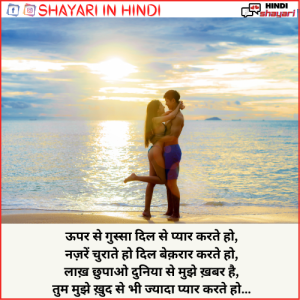 safar wahi tak hai jahan tak tum ho,
najar wahi tak hai jahan tak tum ho,
hajaro phool dekhe hai is gulshan mein magar,
khushbu wahi tak hai jahan tak tum ho…
सफर वहीं तक है जहाँ तक तुम हो,
नजर वहीं तक है जहाँ तक तुम हो,
हजारों फूल देखे हैं इस गुलशन में मगर,
खुशबू वहीं तक है जहाँ तक तुम हो…