Dosti Pe Shayari – Hello, guys I'm here with the most recent collection of Hindi Dosti Shayari. I sincerely hope you enjoy Dosti Shayari's post.
beshak dost se fasla ho jaye
magar uski dosti se fasla kabhi mat karna
बेशक दोस्त से फासला हो जाए ,
मगर उसकी दोस्ती से फासला कभी मत करना।
jab mohabbat hath chhod deti h
tab dost hi kadam se kadam milakar chlte h
जब मोहब्बत हाथ छोड़ देती है ,
तब दोस्त ही कदम से कदम मिलाकर चलते है।
---
Heart Broken Quotes In Hindi
Heart Broken Quotes In Hindi – Hello, friends Have you ever had a heartbreak? Are you depressed? Simply read through our special selection of broken heart shayari to relax.
Aisa Nahi Hai Ki Ab Teri Justjoo Nahi Rahi,
Bas Toot Kar Bikharne Ki Aarzoo Nahi Rahi.
ऐसा नहीं है कि अब तेरी जुस्तजू नहीं रही,
बस टूट कर बिखरने की आरज़ू नहीं रही।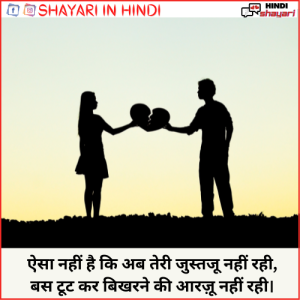 Dil Ki Kya Bisaat Thi Nigaah-e-Jamaal Mein,
Ek Aayina Tha Toot Gaya Dekh-Bhaal Mein.
दिल की क्या बिसात थी निगाह-ए-जमाल में,
इक आइना था टूट गया देख-भाल में।
---
Gm Status
Gm Status – Make your friends and family smile by sending them a heartfelt good morning message in Hindi.
Savere-Savere Ho Khushiyon Ka Mela,
Na Logo Ki Parwaah Na Duniya Ka Jhamela,
Parindo Ka Shor Ho Aur Mausam Albela,
Mubaraq Ho Aapko Aaj Ka Savera.
Good morning..!
सवेरे-सवेरे हो खुशियों का मेला, 
न लोगो की परवाह न दुनिया का झमेला,
परिंदो का शोर हो और मौसम अलबेला, 
मुबारक हो आपको आज का सवेरा.
सुप्रभात!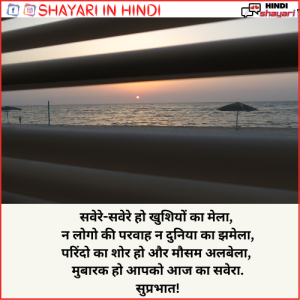 Suraj Ke Bina Subah Nahi Hoti,
Chaand Ke Bina Raat Nahi Hoti,
Badal Ke Bina Barsaat Nahi Hoti,
Aur Aapki Yaad Ke Bina Dost
Din Ki Shuruat Nahi Hoti!
Good Morning.
सूरज के बिना सुबह नहीं होती, 
चाँद के बिना रात नहीं होती, 
बदल के बिना बरसात नहीं होती, और 
आपकी याद के बिना दोस्त दिन की शुरुआत नहीं होती!
सुप्रभात!