English Shayari – We've included some beautiful English Shayari in this post. One of the finest ways to convey feelings in a few words is with a shayari.
Jinka Milna Mukaddar Mein Likha Nahi Hota,
Unse Mohabbat Kasam Se Ba-Kamaal Hoti Hai.
जिनका मिलना मुकद्दर में लिखा नहीं होता,
उनसे मोहब्बत कसम से बा-कमाल होती है।
Dil Se Poochho To Aaj Bhi Tum Mere Hi Ho,
Ye Aur Baat Hai Ki Kismat Dagaa Kar Gayi.
दिल से पूछो तो आज भी तुम मेरे ही हो,
ये ओर बात है कि किस्मत दगा कर गयी।
---
Attitude Status In Hindi
Attitude Status In Hindi – Hi friends! Read here our latest collection of Attitude Shayari, Attitude Status and Attitude SMS in Hindi.
Humari Haisiyat Ka Andaza Tum Ye Jaan Ke Laga Lo,
Hum Kabhi Unke Nahi Hote Jo Har Kisi Ke Ho Gaye.
हमारी हैसियत का अंदाज़ा तुम ये जान के लगा लो,
हम कभी उनके नहीं होते जो हर किसी के हो गए।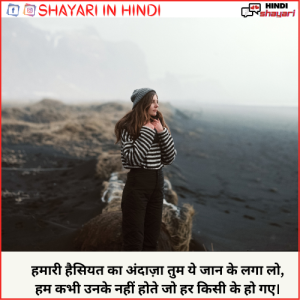 Patthar Bhi To Ab Mujhse Kinaara Karne Lage,
Ki Tum Na Sudhroge Meri Thokarein Kha Kar.
पत्थर भी तो अब मुझसे किनारा करने लगे,
कि तुम ना सुधरोगे मेरी ठोकरें खा कर।
---
True Love Shayari
True Love Shayari – Lovers have always enjoyed Love Shayari. Everyone enjoys reading love poetry, even in the social media era.
Jaan-e-Mann Kaam To Achchha Hai Mohabbat Lekin,
Hum Ko Is Kaam Ke Anjaam Se Darr Lagta Hai.
जान-ए-मन काम तो अच्छा है मोहब्बत लेकिन,
हमको इस काम के अंजाम से डर लगता है।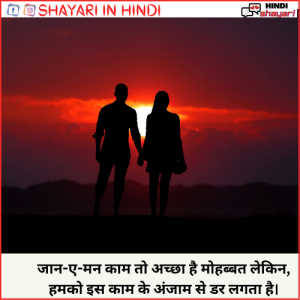 Jaagne Ki Bhi Jagaane Ki Bhi Aadat Ho Jaye,
Kaash Tujhko Kisi Shayar Se Mohabbat Ho Jaye.
जागने की भी, जगाने की भी, आदत हो जाए,
काश तुझको किसी शायर से मोहब्बत हो जाए।