Badmash Shayari – Social connections are necessary for a happy and fulfilling existence. Words of wisdom and motivational sayings about friendship might help us comprehend its genuine nature.
Oye tu Gunda tu badmash hum to
srif ha mere bhai, baki kabhi ulajh
kar dekh laiye.
ओये तू गुंडा तू बदमाश हम तो सरीफ है
मेरे भाई, बाकि कभी उलझ कर देख लाइए।
Dushmano ko jara khabar kar do
badmash fir se jungle me aa gaya.
दुश्मनो को जरा खबर कर दो
बदमाश फिर से जंगल में आ गया।
---
Holi Love Shayari
Holi Love Shayari – Holi is a celebration of colour and sweets. Meeting those who are dear to us and who are close to our hearts at this festive time of year is wonderful.
Sabhi Rango Ka Raas Hai Holi,
Man Ka Ullas Hai Holi,
Jeevan Mein Khushiyan Bhar Deti Hai,
Bas Isiliye Khaas Hai Holi.
सभी रंगों का रास है होली,
मन का उल्लास है होली,
जीवन में खुशियाँ भर देती है,
बस इसीलिए ख़ास है होली।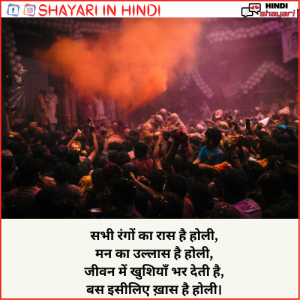 Aye Khuda Aaj To Raham Kar De,
Mere Dost Aaj Nahi Rah Payenge,
Lagwa De Kisi Ladki Ke Haatho Inhe Rang,
Ye Kamine Pure Saal Nhi Nahayenge.
ऐ खुदा आज कुछ तो रहम करदे,
मेरे दोस्त आज नहीं रह पाएंगे,
लगवा दे इन्हें किसी लड़की के हाथो रंग,
कमीने पूरे साल नहीं नहायेंगे।
---
Motivation Shayari
Motivation Shayari – Motivation is a must for living a successful life. You may motivate and inspire anyone to advance in life by writing inspirational poems.
Ye Zindagi Hasin Hai Iss Se Pyar Karo,
Abhi Hai Raat To Subah Ka Intezar Karo,
Wo Pal Bhi Ayega Jiski Khwahish Hai Aapko,
Rab Par Rakho Bharosa Waqt Par Aitbar Karo.
ये ज़िन्दगी हसीं है इस से प्यार करो,
अभी है रात तो सुबह का इंतज़ार करो,
वो पल भी आएगा जिसकी ख्वाहिश है आपको,
रब पर रखो भरोसा वक़्त पर एतबार करो।
Hausle Bhi Kisi Hakeem Se Kam Nahi Hote,
Har Takleef Mein Takat Ki Davaa Dete Hain.
हौसले भी किसी हकीम से कम नहीं होते,
हर तकलीफ़ में ताकत की दवा देते हैं।